Environmental protection: FSC standard packaging product
Environmental protection: FSC standard packaging product
Today, not only
paper printing and packaging companies
, but many companies are looking to the sustainable development model CSR (Corporate Social Responsibility) with three fundamental criteria: Humanities, environment and talent. In particular, environmental factors are considered as a clear way to express social responsibility in building, protecting and developing natural ecosystems.
1. Why does protect the environment associate with sustainable packaging business?
No business can survive without the environment. There will be no paper packaging products such as paper boxes, books, bags without forest wood and water. Therefore, protecting the environment and reducing natural resources consumption have become a complex issue in terms of profitability and social responsibility.
Business and the environment are like two plates of a scale, if one side is overlooked, it will cause unbalance, resulting in both collapses. For example, in
the paper packaging industry
, to have production materials, businesses need paper. Paper is obtained from natural forest wood and production forest. When natural forests are exploited, enterprises are responsible for planting and developing production forests. In contrast, forests provide timber to meet the society's paper production needs.
In addition, businesses are aware of saving resources by recycling paper. A sheet of paper can be reused up to 6 times before being buried or burned. There are many products made from recycled paper such as
carton box
,
paper bag
,
book, notebook, POP display and handmade decorations.
FSC-certified paper bag made by Khang Thanh
2. Why is FSC a commitment to sustainable packaging business?
FSC (Forest Stewardship Council) standard paper packaging
means packaging materials are sourced from strictly managed forests for harvesting, accompanied by maintenance and reforestation. Therefore, these packages are rated more environmental friendly than other types.

FSC certificate code of Khang Thành: FSC-C137179

In order to meet FSC's 10 principles and 56 strict criteria, businesses must demonstrate their responsibility and long-term commitment to sustainable packaging. A business needs to be sustainable, therefore, many businesses today are using FSC-standard products made from regenerated forests. Looking deeper, business associated with environmental and social responsibility also expresseses the sincerity of businessmen.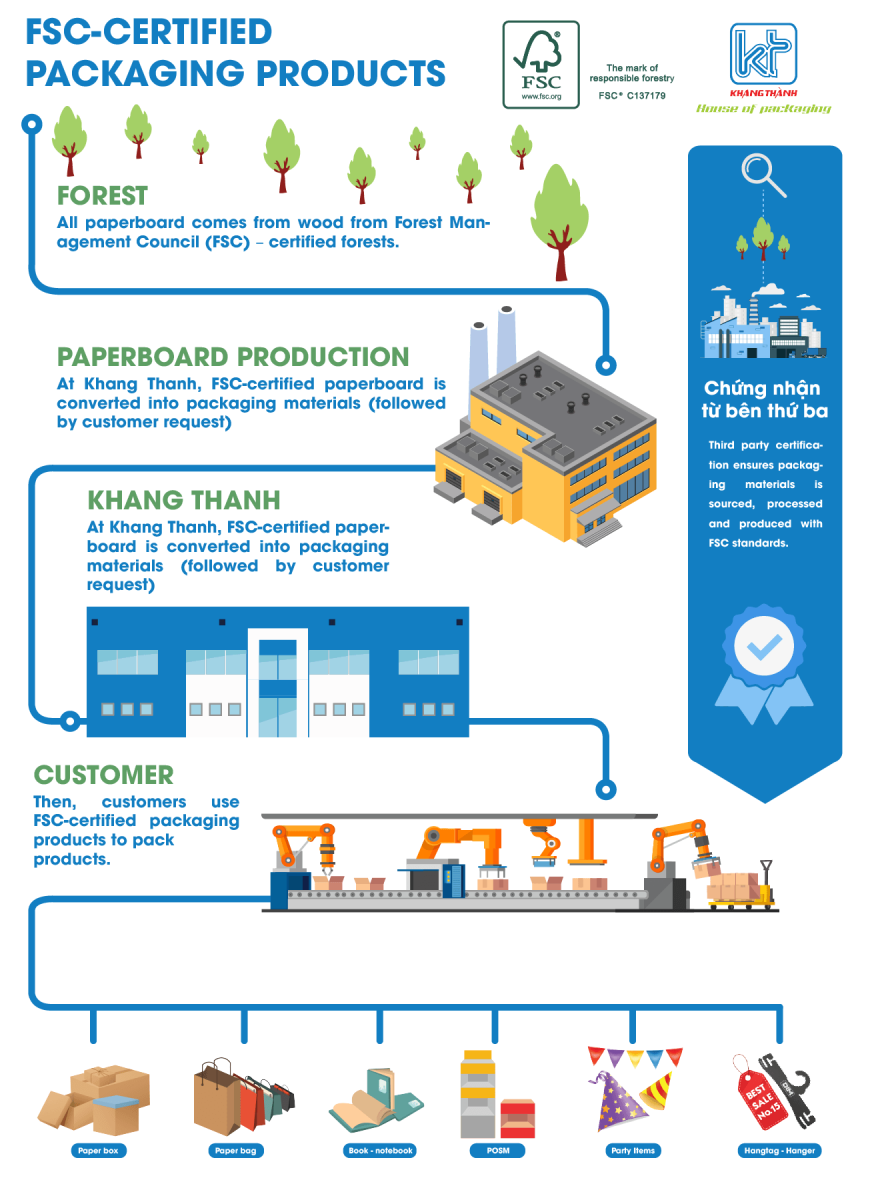 Aware of that, Khang Thanh has constantly made efforts in producing eco-friendly packaging products. In August 2017,
Khang Thanh's paper packaging products were recognized as FSC standard
. To Khang Thanh, business is not only for profit but also for social sustainability.
Read more: Khang Thanh achieves international certification: BSCI, Walt Disney ILS, L'Oreal, G7, ICS


Khang Thanh - The packaging manufacturer in Vietnam specializes in producing paper bags, carton box, carton offset, labels, hangtag, books, calendar, POSM and so on. Contact us to support your brand with the right packaging:
KHANG THANH CO., LTD - ​HOUSE OF PACKAGING
Tel: (+84) 77 8878 222 ​
Email: info@khangthanh.com