Walt Disney ILS standard - Type of audit to evaluate your supplier
Walt Disney ILS standard - Type of audit to evaluate your supplier
International standards will assist businesses in gaining more credibility and accountability for their operations. Walt Disney ILS certification is a valuable standard for creating a safe, sociable, and respectful workplace environment at the enterprise. In the article below, Khang Thanh explains what this
standard
is and what ILS Walt Disney packaging companies must meet.

Walt Disney ILS standard
ILS Walt Disney (International Labor Standards) is The Walt Disney Company's international labor standards program. The goal of this standard is to foster a safe, inclusive, and respectful work environment wherever Disney-branded products are manufactured.
Disney created this certification to monitor labor standards compliance in the Disney product supply chain. The Walt Disney ILS International Labor Standards Program requires all licensees and contractors to conduct pre-production audits and submit reports on a regular basis.
Company with ILS certification Walt Disney will help increase transparency about business conditions while encouraging continuous improvement to meet the standards' requirements and assist businesses. In accordance with the ILS program, the company strives to create a safe, sociable, and respectful working environment.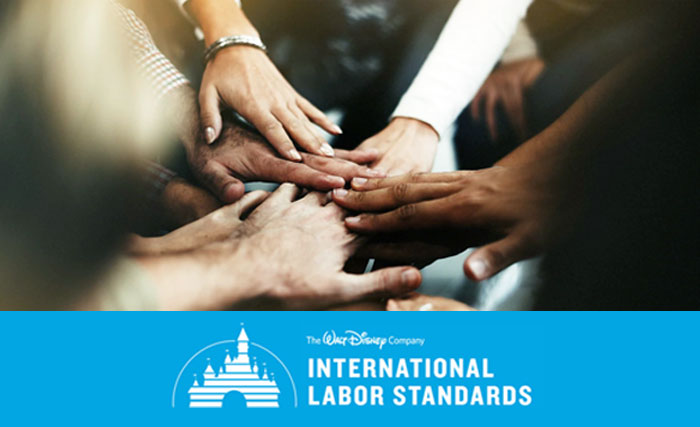 Walt Disney ILS standard - Type of audit to evaluate your supplier

Walt Disney ILS certification general provisions for suppliers

Select the best production partner
According to the regulations, ILS-certified companies like Walt Disney will have to be cautious when it comes to finding and selecting production units, as well as refrain from producing Disney-branded products or sourcing finished products and materials from other countries that are not authorized supply countries. Furthermore, production and sourcing are subject to certain conditions and restrictions that businesses must follow.

Declare all production units
A company with this certification is required to disclose each production unit and its premises prior to the start of any production at the facility, by submitting an application for authorization to use the facility to Disney in a timely manner.

Obtain permission before beginning production
Before beginning to manufacture any Disney-branded product, the company must apply to Disney for permission to use the production unit and franchise.
>>> The C-TPAT standard in goods security and its application

Meets ILS/Walt Disney audit requirements on a regular basis
As a licensee or contractor, a company must provide a copy of the code to each of its manufacturing units and ensure that they understand and comply with Disney regulations.



Correction of regulatory violations
Licensees and contractors must deal with violations within the time limit specified by
the Walt Disney ILS standard
as one of the conditions for continuing with the production unit. Simultaneously, an ILS-certified company like Walt Disney must promote better working conditions and compliance.

Notification of changes on time
Company with ILS certification Walt Disney is responsible for promptly notifying Disney when the production unit is no longer in use for any reason.
Khang Thanh has worked tirelessly over the last 15 years to improve the quality of its human resources and resources in order to provide customers with the most appropriate and high-quality packaging solutions. In addition to ILS Walt Disney, we have been honored with international certifications and standards such as ISO 9001, ISO 14001, FSC, BSCI, and other standards such as L'Oreal, ICS, TCM...
Besides that, Khang Thanh also meets other International Standards such as BSCI, ISO, FSC, G7 Printing etc
Contact us to assist your brand with the right packaging:
KHANG THANH - HOUSE OF PACKAGING
Hotline: (+84) 77 8878 222
Email: info@khangthanh.com