Opportunities and challenges for the packaging industry in Vietnam
Opportunities and challenges for the packaging industry in Vietnam

Packaging is attracting more consumer interest
The majority of customers' daily lives include packaging in some way. Packaging facilitates the retail buying process, gives brand owners a cost-effective distribution strategy, and lowers product spoilage and food waste all along the value chain.
With so many people sharing the unwrapping experience on social media in recent years, the value of packaging has been increasingly apparent. This growing trend demonstrates how effective branded packaging can be as a tool for marketing.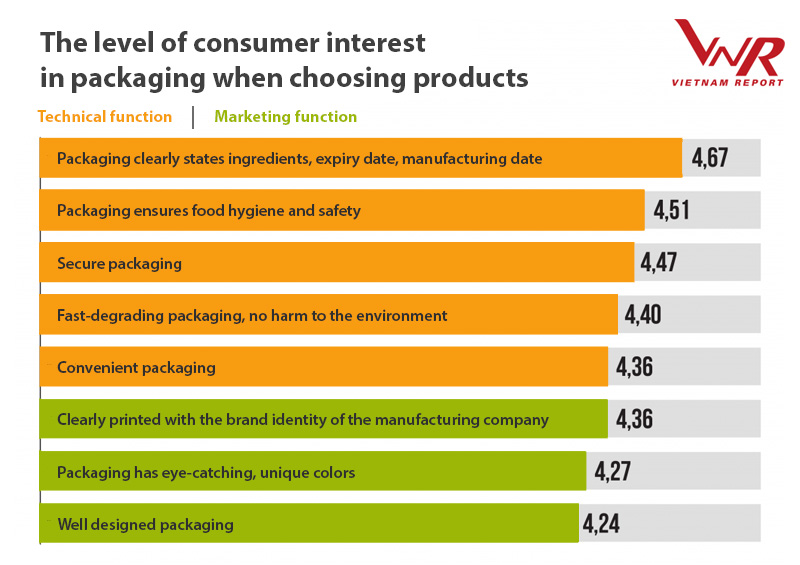 Consumers pay close attention to the technical aspects of packaging when shopping and pay particular attention to information regarding ingredients, expiration dates, and manufacturing dates. According to a poll performed by Vietnam Report in September 2022, 100% of consumers look first at the ingredients, manufacturing date, and expiration date displayed on the package before making a purchase.
Environmental protection is currently one of the top concerns for consumers. Customers have "boycotted" some companies because they use packaging which is not environmentally friendly. Hence, one of the criteria that consumers consider is packaging that decomposes rapidly while not harming the environment (4.4/5).
Packaging serves a technical purpose and a marketing one for businesses' products. The component consumers are most interested in for the marketing function is properly labeled packaging (4,36), according to the consumer survey results from Vietnam Report. Companies are becoming increasingly aware of the need to impress customers with improved packaging and high-quality products. Therefore,
the printing and packaging industry
has a lot of growth potential.

Opportunities and challenges for the packaging industry
Although society and the business community increasingly understand and appreciate the role of packaging in the commodity economy, the development of the packaging industry in Vietnam still needs to be improved. Vietnamese packaging businesses - primarily small and medium-sized - are outmatched by powerful foreign companies in financial resources, technology, management ability, and connections to critical partners. A survey by Vietnam Report has shown the main issues that
packaging manufacturers
face.
Due to the relatively high degree of economic openness in the Vietnamese economy, over 86% of enterprises cited it as their main problem. Two of our nation's largest export markets, Europe and the US, are at risk of entering a recession and will likely reduce imports. In addition, the packaging sector has to import 80-90% of input materials depending on the price of oil, natural gas, and coal in the world.
Therefore, when there is a change in the above factors, it will affect the price of plastic materials, causing risks for packaging enterprises when they cannot adjust the selling price to increase accordingly. Therefore, profits may grow lower than revenue in 2022. According to a survey by Vietnam Report, 100% of enterprises are under pressure to increase input prices. Most businesses believe this pressure will continue until the end of 2023 (43%).
In addition to the issues brought on by the pandemic's extended effects, such as logistics, distribution, reduced purchasing power, the surge of Covid-19 infections, etc., there shall be undertaken problems that the industry has yet to solve, such as those previously discussed.
Vietnamese packaging companies
that do not work to better themselves risk losing their local market share but also the value of the export market, which will go to international investors.
Some outside factors that open up a lot of commercial potential for companies in the packaging sector include:
A free trade agreement's signing

The growth of e-commerce

The domestic market is growing.
The packaging sector is expected to increase by more than 13% each year, with packaging for the food industry growing on average by 15-20%; plastic packaging alone has seen growth rates of up to 25%. Vietnam's paper packaging market is anticipated to reach around $3.1 billion by 2027 at a CAGR of 7.5% during 2021-2027.
>>> How to choose the right printing and packaging company for your business
Industry development trends for packaging
According to a Vietnam Report poll, three factors motivate packaging companies to pursue sustainable development objectives, including:
Implementing a sustainable development strategy can increase a company's value. By developing a sustainable development strategy, businesses can identify risks and opportunities.

Consumers value attainable, sustainable development actions.

By creating a sustainable development strategy, businesses can identify risks and opportunities.
Growing online purchasing opens new packaging opportunities, particularly in protective packaging and environmentally friendly delivery. E-commerce will significantly alter the specifications: packaging will be tailored for each product, supply chain effectiveness, and unboxing at home rather than on store shelves.
As a result of these two major trends, the packaging sector is implementing innovative and environmentally friendly techniques to create packaging for products that is more palatable to customers, companies, and the environment. These techniques include Internet packaging, biodegradable packaging, digital printing packaging, and nanotechnology packaging.
These changes will provide various challenges for the packaging industry but also present chances for a significant expansion for companies that take the appropriate steps and pay attention. Due to the high level of economic openness, domestic package manufacturing and business operations are still very dependent on the currently unstable global economic environment.
The main priorities for businesses in the sector are to boost internal resources, boost resilience and resilience through a strong focus on resources, and reallocate resources to critical areas.
According to a Vietnam Report poll, these three goals are what
packaging companies
focus on now and in the future.
Three ways that the Government can help the packaging sector
According to the findings of the study of companies and packaging industry experts conducted by Vietnam Report, the Government can assist with the following significant business solutions:
Completing the legal corridor system, establishing transparency of information, and fostering an atmosphere of fair competition among firms

lower the import tax on raw materials

Create national standards and rules for industry products, focusing on the collection and recycling of packaging.

>>> List of printing and packaging exhibitions in Vietnam
In many nations, including Vietnam, environmental pollution is a contentious topic. The paper packaging business naturally uses a lot of energy, fuels, and chemicals with potentially dangerous emissions, making it one of the manufacturing sectors with the most significant environmental impact. As a result, several environmental protection standards, including BRC and
FSC Certification
, have been introduced.
The Government should use these certifications as a foundation to create a set of national regulations and standards for product packaging to safeguard the environment effectively. The chance will be for companies and brands that will have the proper and severe investment recognition for packaging in the future.

Report: Vietnam Report
Translate: Khang Thanh