How to select the perfect washable paper tote bag for your style?
How to select the perfect washable paper tote bag for your style?
Washable tote bags are a beneficial and practical option. They may help you maintain your fantastic grasp on life from work to parties (indoor and outdoor), shopping to travel. These bags are suitable for all circumstances due to their adorable designs and large carrying capacities.
12 Types of washable paper tote bags are designed and made by Khang Thanh Packaging

What is a washable paper tote bag?
In its most basic form,
a washable paper tote bag
is a medium-sized bag with two parallel handles. Tote bags are more extensive than most purses and have an open top.
The main difference between tote bags and other bags is that a handbag is carried by a single long and flexible strap. In contrast, the tote bag has two straps. The difference in sashes may be unnoticeable, but it can impact the bag's functionality. You'll recognize the features if you've ever used a tote bag as a shopping bag. The differences in straps between the two bags give each bag a distinct function.
Reusable and recyclable
Aesthetic designs
Earth-friendly materials
Spacious storage
Custom easy
Affordable price
>>> 5 Popular questions about washable paper tote bags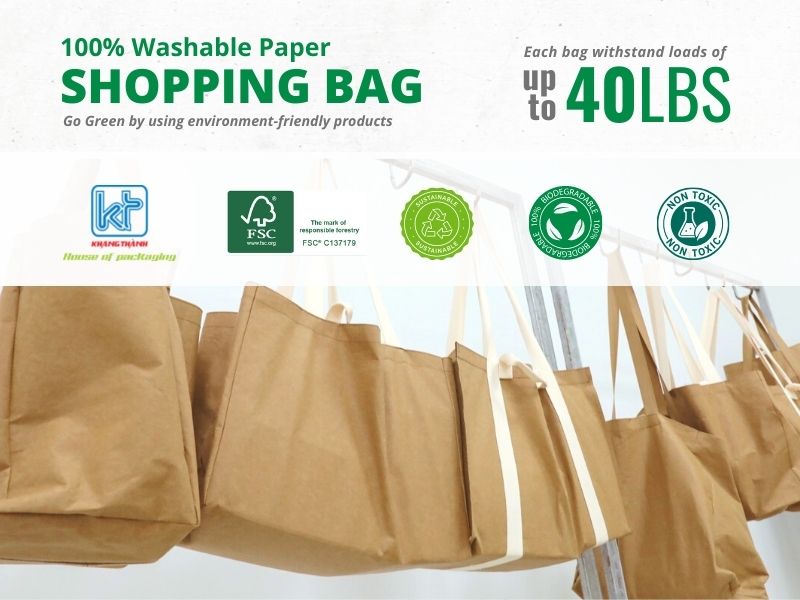 The 12 best washable paper tote bags
1. Washable paper fashion tote bag
The bag is made of pure, high-quality washable paper and is popular with women. When carried, it appears very graceful. The bag is more extensive, allowing for more items to be stored. It has a clever metal latch and padded handles for carrying the bag so it can be interlocked. When taken, it has a very fashionable appearance.

2. Washable paper shopper tote bag
These large tote bags are ideal for both shopping and outdoor excursions. The little strips are still present, giving the bag a smart and fashionable appearance.
>>> The 7 best washable paper shopping bags

3. Washable paper picnic tote bag
The ideal picnic bag will have enough room to fit your hot and cold food and beverages.

4. Washable paper beach tote bag
One of the most well-liked beach bags is the tote. What more could you want than enough room to keep a book, a towel, and a sunscreen bottle? A waxed canvas tote bag is a durable, stylish option for sand and sun protection.

5. Washable paper promotional tote bag
These designer totes are lovely and elegant to flaunt. They match any ethnic wear and traditional clothing. These tote bags' hot designer prints and accents look stunning when paired with contrasting colors and patterns.

6. Washable paper tote bag for work
The most elegant women's work bag will hold your stuff and resources for the job. But it will also appear chic, expert, and put together. There are also tote bags with laptop sleeves.

7. Washable paper travel tote bag
A roomy tote bag with many pockets and zippers, a travel tote can easily fit everything you need for travel. It's valuable and stylish.

8. Washable paper gym tote bag
A woman's gym backpack needs to be helpful. But, it can be more than just functional. A woman's training and exercise gear bag should be practical without compromising her sense of style and personality. Enter the world of the tote bag, which is durable enough to get the job done but fashionable enough to be enjoyable to carry.

9. Washable paper diaper tote bag
If you want a diaper bag with a ton of pockets, pouches, and compartments, a classic diaper bag is the way to go. So, a tote bag is perfect if you like to carry a bag that complements your style and enables you to throw in what you need quickly.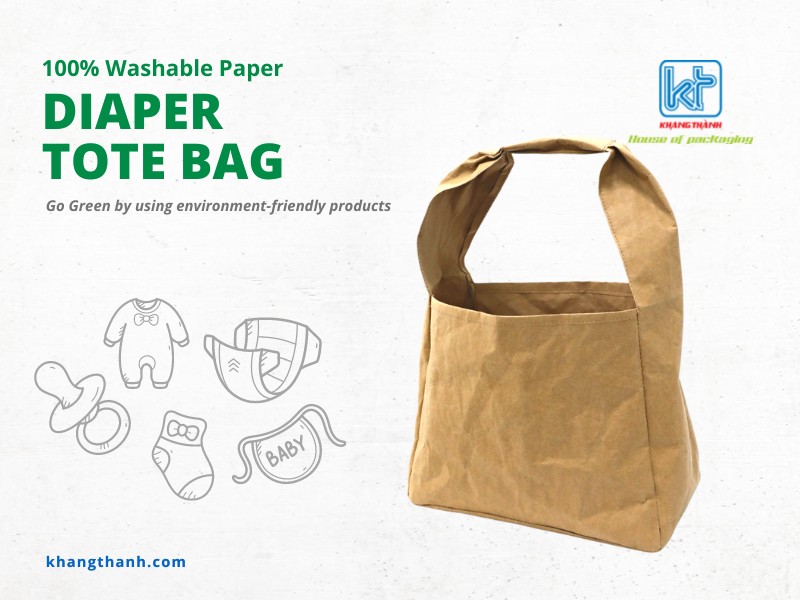 10. Washable paper gift tote bag
Forget the gift wrappers and the useless presents. When you give a tote bag in the future, you'll earn brownie points and gold stars for offering such a great, enduring gift.

11. Washable paper winery tote bag
Instead of using standard gift bags, washable wine bags are a terrific option. You can give bottled wine to friends and family for parties and celebrations.

12. Customized washable paper tote bag
A name or alphabet initials on a tote bag makes it look lovely and gracious when carried. They come in various colors, and the bag is closed with a sizable button. It is a fantastic choice for giving or even receiving gifts.
>>> 11 Washable paper bags that will never go out of style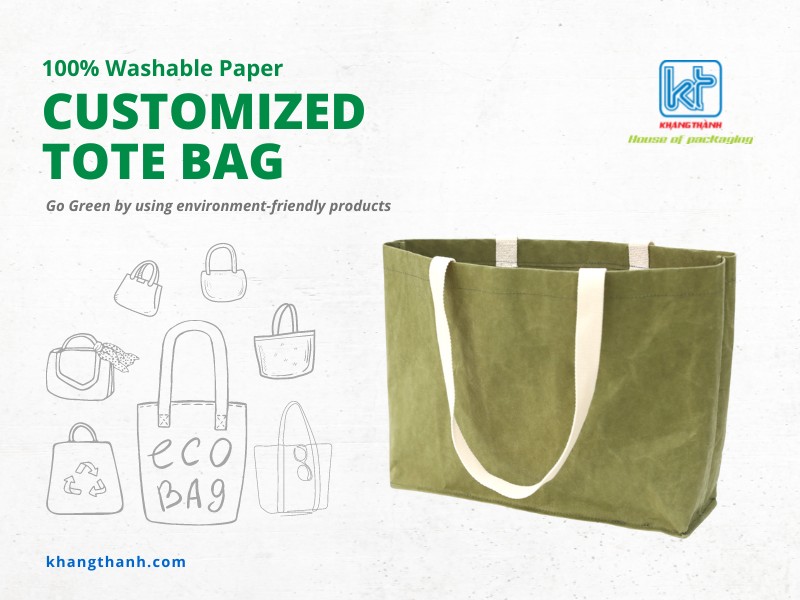 5 Reasons why reusable tote bags are the best

Extremely strong and long-Lasting
We are all aware that regular paper bags have a limited lifespan. But
washable paper bags
are unique! These ground-breaking bags are composed of kraft paper that can be washed. This kind of paper is resistant to water and tearing. The bags are highly durable thanks to these features. They allow you to transport food, plants, and other items without causing any harm to the bag.

Fully washable
We've been emphasizing how washable these bags are. What does that involve, though? Not exceptionally water-resistant is regular paper. A tiny spill is all it takes to damage a paper bag. These issues are not present with washable paper bags. Like any other fabric, they respond to water in the same way. And what's this? To clean them, toss them in the washing machine.

Portable and simple to store
These purses are incredibly light and portable despite being machine washable. The best thing about them is how easily they can be flattened for storage. Additionally, you can manually reshape the material to restore it to its original shape. You are no longer required to lug around heavy tote bags. You can carry these paper bags with you everywhere.

An excellent alternative to animal leather that is not cruel
Nothing compares to the texture and quality of animal leather. Unfortunately, the manufacture of leather is known to be environmentally damaging. Not to mention the abuse animals suffer because of it! An impressive substitute for guilt-free leather is washable paper. The quality feel of leather is present in the bags created from it.
>>> 4 Manufacturing techniques for washable paper bags

Reusable and biodegradable
These
tote bags
, instead of conventional paper bags, can be used repeatedly. You no longer need to grab your plastic bags as a result. You won't feel bad when these bags do reach the end of their useful lives. It is because they are entirely biodegradable. They don't corrupt and pollute the environment like plastic does.
We would love to learn more about your project. Feel free to reach us to support your brand with
the right washable paper products
:
KHANG THANH MANUFACTURING JSC - ​HOUSE OF PACKAGING
Tel: (+84) 77 8878 222
Email: info@khangthanh.com