WASHABLE PAPER BAGS
Washable paper bags
are a long-lasting, earth-friendly, and attractive solution that will make your store stand out from the rest.
Looks and feels like leather, but is made of paper
Color print can easily be added to this product to give it that message that grabs the customer's attention
Includes attached retail hang tag on the outside of the bag


WASHABLE PAPER BAG MANUFACTURER IN VIETNAM
Over the last 15 years,
Khang Thanh
has been operating its modern facility to manufacture millions of paper bags used in food, interior, home appliances, and medical equipment packaging. We are committed to manufacturing each and every product with the highest standard of quality.
Product: Washed paper tote bag, backpack, rucksack, drawstrings bag, clutch, satchel bag, crossbody bag, purse, pouch, cooler insulated bag, lunch paper bag, toiletry bag, etc
Application: Fashion, casual, shopping, gift packaging
Design: Front zipped pocket. Inside cotton sleeve. Side pockets
Materials: 100% natural fiber - Washable kraft paper
Customized choice: Design, finishing, color, shape, dimension, etc.
Colors: Nature, brown, black, grey, white
Accessories: Sewing label, rope buckle, magnet
Features: Leather-style look and feel, tear-resistant, lightweight, wear-resistant, waterproof, machine washable and reusable, ironable, earth-friendly
Surface Finish: Silk screen printing, heat transfer printing, etc
Handle: Body material, canvas, cotton, leather
Certificates: FSC, BSCI, ISO 9001, ISO 14001, ICS, G7 Printing Master, Walt Disney ILS, L'Oreal Audit, TCM
Care: The bag can be hand-washed or wiped clean. Wash in warm water using a mild detergent or soap. Be sure to rinse thoroughly and reshape before drying. Do not wash the leather details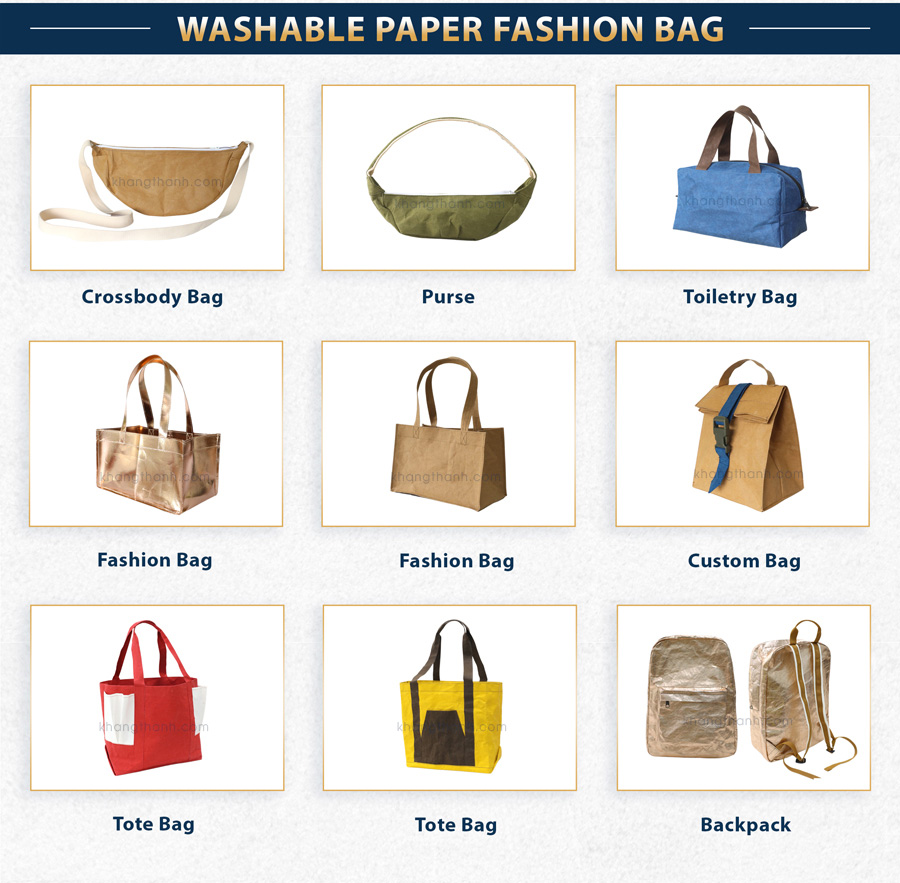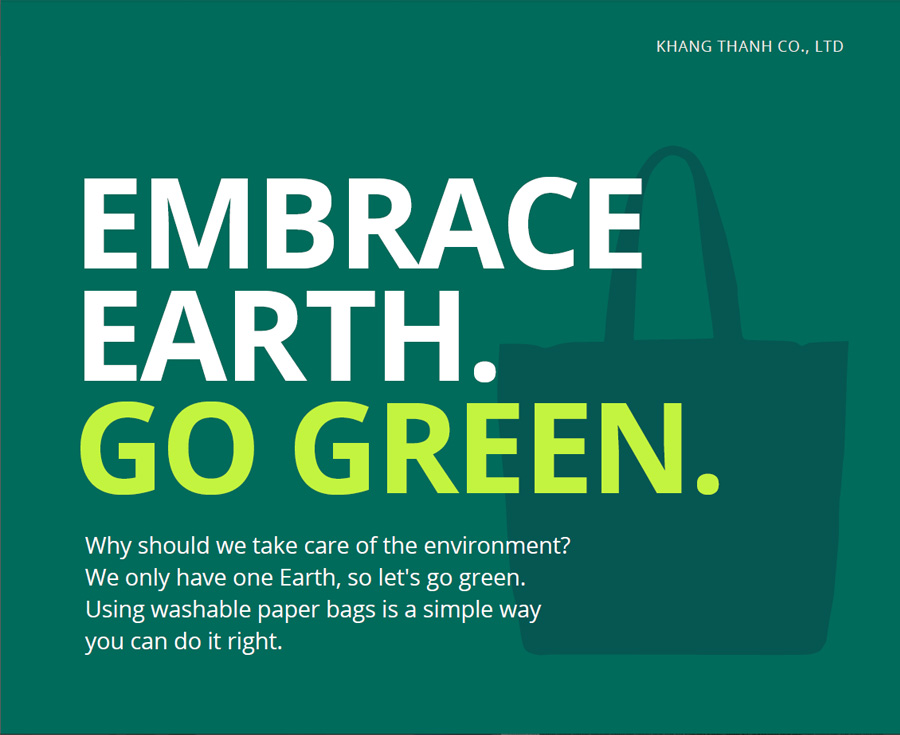 SUSTAINABLE DEVELOPMENT
QUALITY STANDARDS
Khang Thanh the improvement of product quality according to G7 Printing Master standards.
Investing in advanced equipment, standardized methods, and quality testing equipment according to the ISO 9001:2015 system.
ENVIRONMENT
Using forest and paper resources that are managed under strict criteria of FSC.
Efficient use of energy sources and control and treat emissions according to the ISO 14001:2015 system
SOCIAL RESPONSIBILITY
Responsible labor utilization under the BSCI system.
Towards a Sustainable Supply Chain, achieving Walt Disney ILS and L'Oreal's Supplier Responsibility Compliance
CONTACT US
We'd love to learn more about your project. Feel free to reach us to support your brand with the right washable paper packaging:

KHANG THANH MANUFACTURING JSC - HOUSE OF PACKAGING
Tel: (+84) 77 8878 222 ​
Email: info@khangthanh.com