5 basic principles in good product packaging design
5 basic principles in good product packaging design
While most brands focus on conveying messages about product quality to attract customers, marketing studies have shown
packaging design
is the first factor to persuade customers to buy a product.
Among thousands of products sold every day, how to make your products the most impressive? The answer is that the product must have a "nice shirt" - which is eye-catching and luxurious packaging design.
So how can you design a beautiful packaging template? Let's explore the below principles in
product packaging design.
Principle 1: Packaging design is "the face" of a brand
Packaging is the face of the brand and the golden key to connect your business with the customers, so the first and most important rule in
product packaging design
is to ensure it transfer the brand's message, to ensure that your products are not to be confused with other competitors.
In product packaging design, you must ensure the design principles of the brand identity, including logo, brand colors, logos, slogan. The connection between businesses and customers is formed based on the brand identity system, so in product packaging design, this issue is also should be guaranteed.
Packaging system of Tiffany Jewelry Company is considered as a typical example in synchronizing brand image, from main color tone to typeface, box type, even bow tie style
Principle 2: Packaging design should be consumer-friendly
When it comes to packaging design, a designer must understand that it should be friendly to consumers. It should be made for the consumers. You cannot use a men's shampoo
packaging design
to pack women's shampoos.
The principle of designing consumer-friendly packaging is the basic principle, aiming to minimize the design causing the situation of "a square peg in a round hole." This is a situation that any business does not want to encounter.
The interesting research results of Kissmetrics indicate the difference in preferred color between men and women
Principle 3: Creative packaging design
Creativity is the principle required to have a beautiful, impressive packaging design. Product packaging with an innovative design will surely attract consumers, and make them outstanding from thousands of other products displayed on the same shelf.
They will be impressed and convinced by the different
packaging design
and will choose to buy that product. Therefore, the creative packaging design principle is one of the basic principles to help product packaging designers succeed.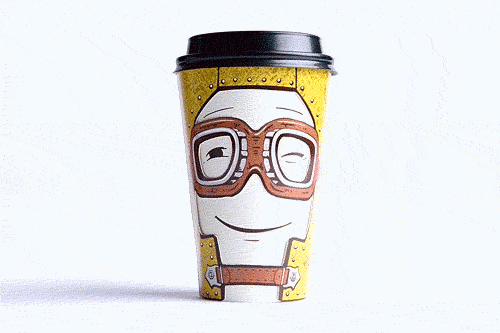 Who could refuse such a unique glass of water like this?
Principle 4: Packaging design should be multi-purpose
A packaging design should also be convenient for consumers to use. In
product packaging design
, designers should not only focus on the packaging of products, but also care about what customers will use this packaging for later.
This helps designers calculate the size and material of the packaging. For highly applicable packages, this is assessed through handling, transport, use, and storage. Therefore, designers need to be more concerned about versatility of packaging design.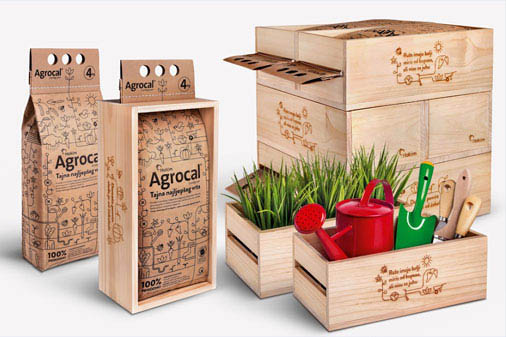 A multi-purpose packaging design of Agrocal Seed, wooden boxes not only contain products but also allow planting trees in it
Principle 5: Pay attention to product packaging material
The last element that makes up a perfect packaging design is the material. The material will also confirms that the enterprise is dedicated and focused on its products. It is necessary to consider the connection of the product characteristics and the habits of target customers to choose the most appropriate packaging design material.
The materials should be durable and good enough to preserve products from external influences such as moisture, dust, temperature, impact. Currently, some businesses are quite focused on using environmentally friendly materials such as paper and carton boxes. This is a way to help your business comes closer to your consumers. It is also a way for businesses to contribute to protecting the living environment and saving fuel resources.
Some paper packaging samples are both safe to store food and contribute to the environment
Hopefully some of the above suggestions will help you to create eye-catching and suitable packaging products design for your consumers.
Khang Thanh - The packaging manufacturer in Vietnam specializes in producing paper bags, carton box, carton offset, labels, hangtag, books, calendar, POSM and so on. Contact us to support your brand with the right packaging: info@khangthanh.com
KHANG THANH CO., LTD - ​HOUSE OF PACKAGING
Tel: (+84) 77 8878 222 ​
Email: info@khangthanh.com