9 Types of jewelry boxes by use and styles
9 Types of jewelry boxes by use and styles
If you enjoy the added class and sophistication that jewelry adds to your everyday outfits, you may be looking for the ideal jewelry box. Fortunately, there is a wide selection of jewelry boxes available to suit all tastes. There are enough models to suit all tastes, whether it is for efficient storage, protection for your more expensive pieces, or simply decoration. Here is a guide to help you make a qualified purchase.

1. Ring boxes
Ring boxes
, as the name implies, are boxes that are specifically designed to store and protect rings. This type of box comes in a wide range of sizes, from those that can only hold one ring to those with multiple rows of slots that can store over 20 rings. The design of these larger ones is usually slim and narrow, but longer. They have a row or multiple parallel rows of slots on the inside to keep the rings upright.
These rows and slots are typically lined with velvet or other soft fabrics, which serve a dual purpose. They protect the rings from scratches and damage caused by shocks or mishandling. They polish each ring individually when inserting and removing them to be worn. This is a great option for people who have a large ring collection and want to protect and maintain their pieces.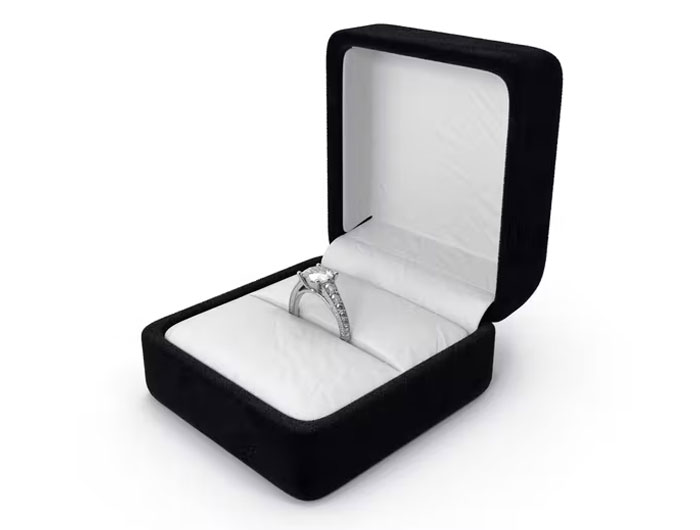 2. Necklace boxes
Necklace boxes
come in a variety of shapes, sizes, and materials, but they all have one thing in common: hooks. These hooks are a very practical and simple way to separate and hang your necklaces rather than having them sit in a large clump inside a drawer. They are the best way to prevent tangles and keep your necklaces in good condition.
Some are in the shape of a flat, square, or rectangular box. When the hinged lid is opened, these resemble the tray that comes with universal boxes. The inside is lined with a soft fabric, most often velvet or satin. When compared to trays, the most noticeable difference is the presence of those hooks, which makes them ideal for people who have a large necklace collection.

3. Watch boxes
Watch boxes can be found in a man's wardrobe because watches are one of the few ways men can accessorize their outfits. The size of watch boxes varies: some can only hold a few watches, while others have dozens of slots on multiple levels. They are typically made of wood or leather to give them a more masculine appearance, while the inside is covered in smooth materials such as silk or leather to protect against scratches and cracks. Most watch boxes have tough glass lids that keep the watches safe while also displaying them.
There are also watch boxes for women. Their interior structure is very similar, if not identical, to that of men's watch boxes, but their exterior is usually brighter and softer. Because men's jewelry boxes are typically very somber, the decorative quality of these is much more prominent.
>>> Recommended 10 popular high-quality watch box models

4. Earring boxes
Earring boxes are typically designed to address the most common issue with pairs of earrings: keeping the two earrings together. The size of earring boxes varies greatly: some are designed specifically for a single pair of earrings, while others can hold up to 20 or more.
Single-pair boxes are typically small and square, with a hinged or detachable lid. The earrings are mostly held in place by two systems. On the one hand, they can have a piece of cardboard or another rigid material lined with soft fabric and with two small holes for the earrings. They can, on the other hand, have a small, soft pillow in which you can secure your earrings.

5. Bracelet boxes
Bracelet boxes are typically designed to hold a single bracelet. They are usually made of cardboard or leather and are long and slim. Ribbons can be used to decorate the lids, which are usually detachable, though bracelet boxes with hinged tops are not uncommon. They are lined on the inside with leather or velvet to protect the bracelet and have elastic bands or ribbons at both ends to keep it in place.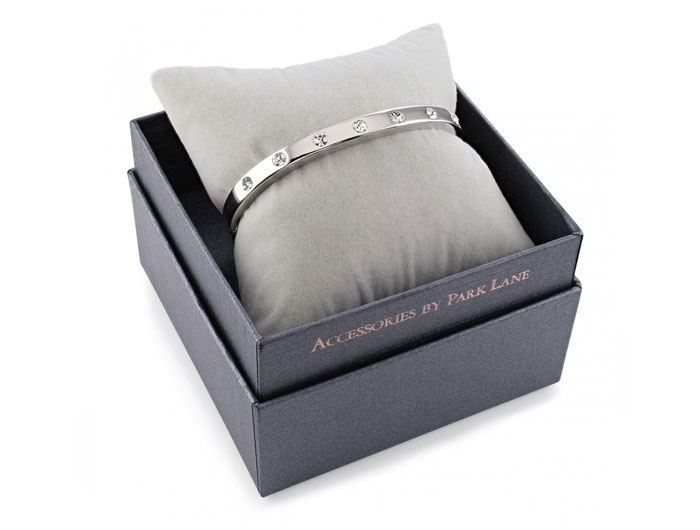 6. Bangle boxes
Bangle boxes, as opposed to bracelet boxes, are typically designed to hold multiple bangles. They are typically large square or rectangle boxes with hinged lids. They have multiple parallel rolls inside where the bangles are placed. The bangles will lay naturally on your wrist this way. Some
bangle boxes
have glass lids for added visibility. Those with an opaque lid, on the other hand, usually have a mirror on the inside. The majority of bangle boxes are ornately carved or covered in oriental patterns. Some of them have velvet linings.
There are also cylindrical bangle boxes available. These typically contain a single roll and are made of lighter materials such as leather or cardboard. The top of the box unrolls away from the side of the box, allowing a peek inside. There are also individual bangle boxes, in which the bangle either lies flat or is inserted vertically into a slot to keep it upright.
>>> 17 Typical rigid box structures

7. Gift jewelry boxes
Individual gift jewelry boxes are the most common type. They are made of cardboard or plastic, and the interior structure varies depending on the type of jewelry for which they are intended. Gift jewelry boxes typically have detachable or hinged lids and are very simple in design, with one or two colors at most and a simple and slim ribbon on the lid.
These are not intended to be the primary storage for a jewelry collection, but rather as attractive packaging for a jewelry item to be given as a gift. Their soft interior lining ensures that the jewelry is not damaged by careless handling and that the gift remains as good as new.

8. Keepsake boxes
Some jewelry boxes are smaller in size, made of wood, and usually have a single compartment that catch the eye due to their decorative yet simple designs. These are known as keepsake boxes, and they are used to store small items with sentimental value. Their purpose is to be placed in plain sight, hence their highly decorative appearance. Therefore, if you need to store some more expensive items, avoid putting them inside these small boxes.
>>> Make your products look more compelling with rigid boxes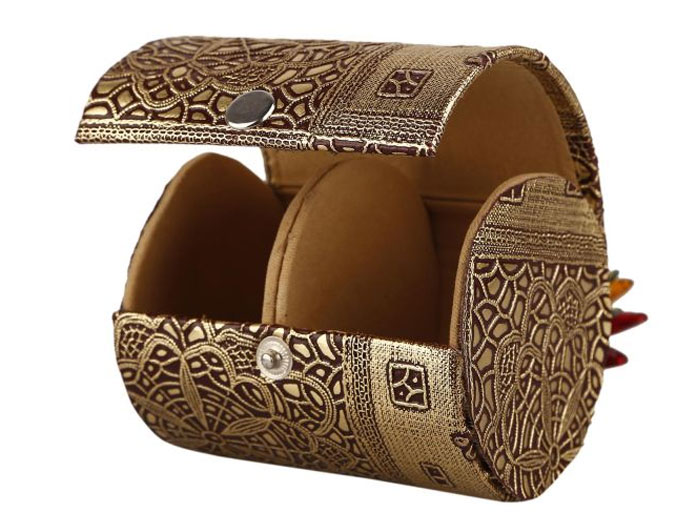 9. Cufflink boxes
Cufflink boxes range in size from those designed to hold a single pair of cufflinks to those capable of holding 20 or more. Individual pair
cufflink boxes
appear to be a cross between a bracelet box and an earring box: they are typically square, made of plastic, with a hinged lid, a velvet-lined interior, and two elastic bands to keep the cufflinks in place.
They are mostly black, brown, or mahogany in color and made of materials like leather and wood. These design choices lend them a masculine appearance.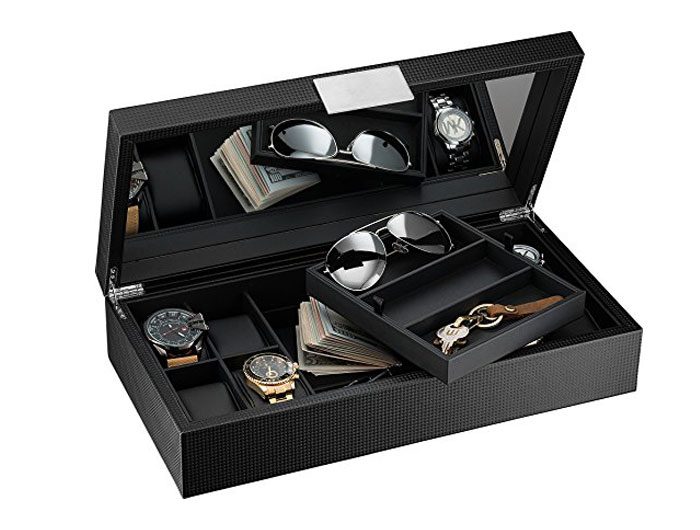 We'd love to learn more about your project. Feel free to reach us to support your brand with the right gift box packaging:
KHANG THANH - HOUSE OF PACKAGING
Tel: +84 (0) 77 8878 222 ​
Email: info@khangthanh.com