7 Most popular types of paper bag for various purposes
7 Most popular types of paper bag for various purposes
Paper bags are increasingly popular with the trend of using environmental-friendly products. They appear in many different areas with different purposes such as premium gift bags, shopping bags for apparel, zip bags for food, recycled bag for retail...
What types of
paper bags
are most commonly used today? Let us figure out through the following article with
Khang Thanh
.
1. Paper gift bags
Gifts often have a special meaning to the giver and the receiver, showing their heart, respect, and affection ... To increase the value of the gift, instead of ordinary plastic bags, people use paper bags as a prevailing trend. There are many options of gift bags for you to choose from:
Paper material: couches paper, Ivory paper, Kraft paper, Duplex paper ...
Design: they can go with a strap (PP, ribbon fabric, herringbone strap, transparent plastic, or ordinary twisted paper ...), a bow, or can be in foldover style ...
Dimensions: 410 x 290 x 100 mm fot big gifts and 140 x 130 x 60 mm for small ones
Safety standards: ensure that the bursting strength is adequate to protect the product inside, and make it easy to hold when moving.
Printing technique: any printing technique can be used to increase aesthetics, depending on your costs.
If you are a business and want to give presents to your partners or customers, a beautiful and
classy gift bag
needs to show some crucial information such as logo, business name, message... This simple gift bag can become a good marketing tool to score points with your business partners.

2. Paper bags for food
In the food industry, hygiene and safety are always top priorities. The investment in
paper bags
to replace plastic packaging is gradually being paid attention to. To ensure both quality and safety, paper food bags need to meet strict standards.
Some basic information about paper food bags (bread, pizza, hamburger ...):
Paper material: MG Kraft - Brown Kraft Paper is recommended to contain food. This paper is made from natural wood pulp, so it is very safe. Different kinds of food such as french fries, fried chicken, bread, hamburger … can be stored in these bags. Their usual basis weight is 35 gsm - 60 gsm that will ensure toughness, oil resistance, and tear resistance.
Designs: bags with a simple flip or capless bags are frequently used due to their cost-saving.
Size: variable
Safety standards: strictly comply with safety requirements for paper materials, printing techniques, inks, as well as printing specifications.
Printing technique: refrain from using too many images and colors to ensure food safety.

3. Paper bags for wine
Using
a paper wine bag
not only protects the wine bottle from falling but also adds value to it. Besides, with a beautiful art paper bag design, the product can also be used as a gift or display, which is also an effective marketing method that can increase sales. Here are some elements of the wine paper bag for your reference:
Material: Couche, Bristol, Ivory, Kraft paper, art paper... that are in relatively high basis weight (GSM).
Design: Single bag, double bag, with sturdy paracord strap ...
Size: 30cm x 9cm x 9cm is a common size that fits most of the wine bottles. However, you can order different sizes depending on the bottle's shape.
Safety standards: ensure proper basis weight with sturdy straps to keep the product safe when being carried around.
Printing technique: there are common techniques such as OPP matte lamination, UV coating, metallic press...
>>> Here are 10 Common questions when you need to order paper bag in Vietnam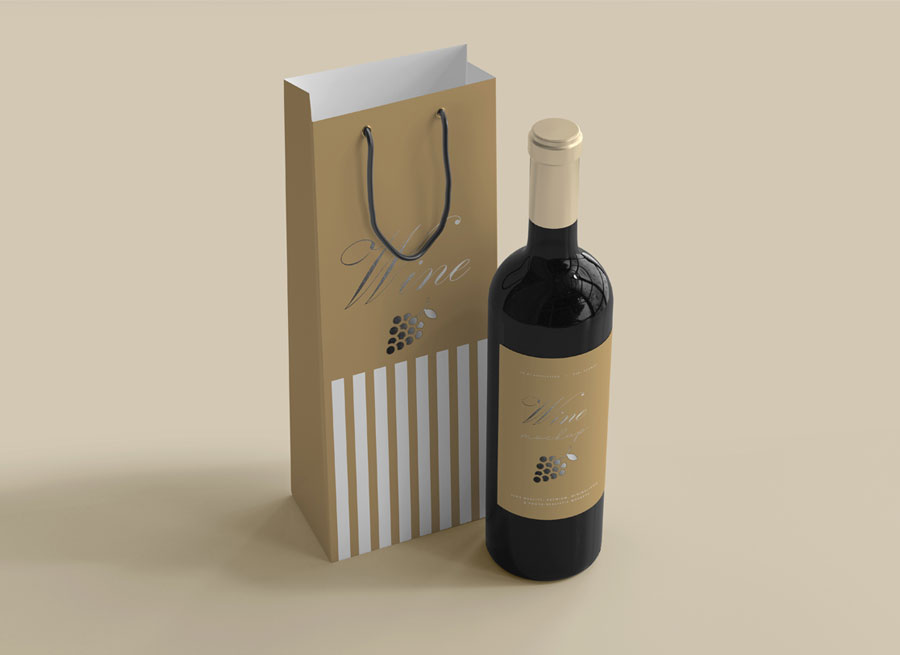 4. Paper bags for coffee
With the unique color, taste, and shape of the coffee,
coffee paper bags
are often manufactured following these below features:
Material: Special 3-4 layer Kraft paper.
Design: Flip or zipper pocket
Dimension: 230 x 330 x 90 mm ...
Safety standards: It needs to comply with criteria similar to food bags. Besides, it should be able to resist moisture, waterproof, anti-UV, and preserve the aroma.
Printing technique: Many printing techniques are applied. To preserve the coffee taste, the bag is combined Kraft paper with Aluminum film or MPET coated that helps prevent external influences.
>>> 5 Interesting facts about recycled paper bag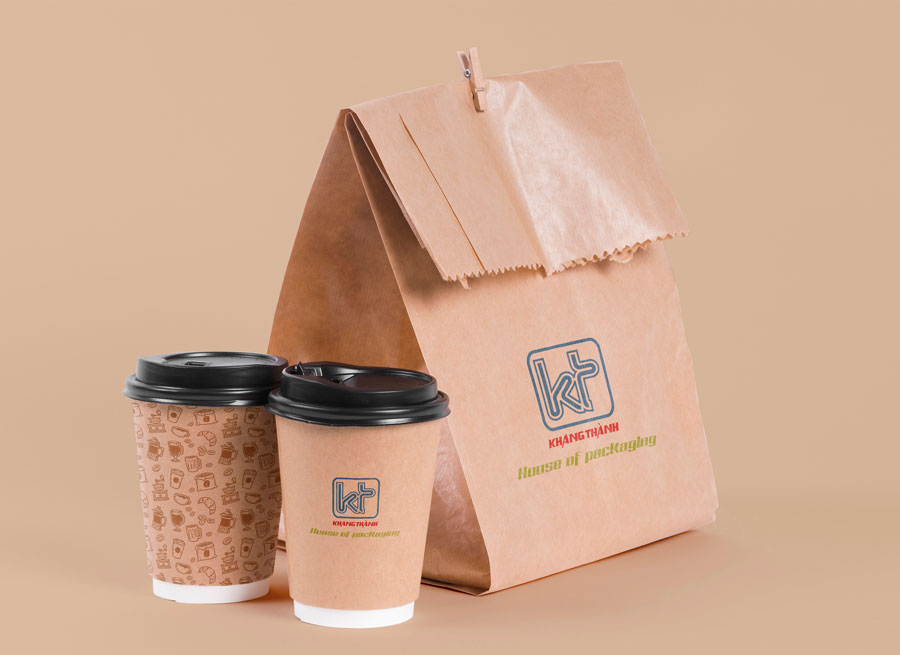 5. Cosmetic paper bag
Cosmetic bags
often have high aesthetic demands, since they are mostly used for gifts.
Material: Couche, Bristol, Kraft, Ivory ... For expensive cosmetics, you can choose art paper to make the product classy.
Design: bags in horizontal or vertical shape.
Bag size: depending on product type, 255 x 200 x 120 mm is the most common size.
Safety standards: paper need to has adequate basis weight to ensure the product won't be deformed and must be easy to carry around.
Printing technique: Using a variety of techniques to increase the product's elegance.

6. Paper bag for clothes
Replacing regular plastic bags with
premium paper bags
is a choice of many high-end fashion brands. There are options based on the value and basis weight of the clothes:
Material: Kraft or Ivory, Duplex, Couches ... paper are popularly used for clothes bags.
Design: Horizontal style with fabric or twisted paper strap.
Size: 400 x 300 x 90 mm, depending on the customer's inquiry.
Safety standards: Because the weight of the clothes is not too high, we only need the paper material with average basis weight, combining with careful processing at the bottom of the bag and the strap.
Printing techniques: offset printing, coating printing, foil press, laminating, color mixing, stamping, embossing ...

7. Customized gift paper bags (New Year, Mid-Autumn Festival...)
In addition to paper bags designed for products,
seasonal paper bags
for each holiday or anniversary ... will have their specific requirements.
Paper material: Ivory, Kraft paper ...
Design: bags with plastic, twisted paper, or fabric strap, or strapless bags ...
Size: there are many different sizes for gifts in different shapes. Size 30cm x 25cm x 10cm is suitable for storing cosmetic gifts. For larger gifts like beer tanks, soft drinks ..., the size could be 30cm x 42cm x 16cm.
Safety standards: the bag must be of good basis weight, to save cost, protect the gift, and carry conveniently.
Printing technique: commonly glossy or matte lamination, gliter ect.
>>> The guide to choose the right paper bag manufacturer in Vietnam
In general, paper bags must ensure a certain number of principles following each purpose. We hope this article will give you an overview of the paper bags, to help you make the correct choice for your packaging model. Let us solve your packaging problems with a standard, safe, and high-quality packaging solution. Contact us to order
custom paper bag
:


KHANG THANH PACKAGING COMPANY - HOUSE OF PACKAGING
Tel: 077 8878 222
Email: info@khangthanh.com