Recommended 10 popular high-quality watch box models currently
Recommended 10 popular high-quality watch box models currently
Watches are an excellent choice for gifts for partners, customers, and friends because they are appropriate for a wide range of objects, purposes, segments, and values. A valuable watch is determined by various factors, one of which is the packaging. Rigid boxes, high-end boxes, lid and base boxes, pull-in boxes, and other watch boxes are commonly seen and meticulously and precisely manufactured. In this article, Khang Thanh introduces you to 10
high-end wristwatch boxes
suitable for gifts.

1. Lid and base box for watches
The top and bottom boxes are one of the most popular watch box models today. The method of opening and closing the box is quite popular nowadays.
Advantages:
Simple to use and suitable for the majority of products.
Excellent product protection. Beautiful and durable.
Disadvantages:
The box cannot be folded when unused, which can take up space and storage.

2. Multi-compartment watch box
With its many compartments, this box model is ideal for double watches or product displays.
Pros:
Product protection is excellent.
Plenty of space to store and display products
Elegant, delicate, and luxurious design.
Cons:
This box model cannot be folded, resulting in high storage and transportation costs.
The price is relatively high.
>>> High-end rigid gift box - What makes the difference?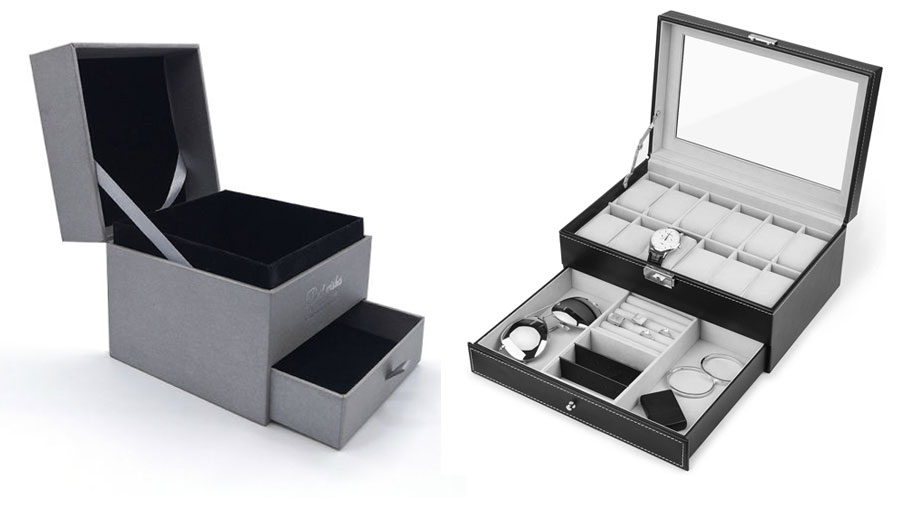 3. Top & bottom covers with sidewalls for watches
This
rigid box
has a unique design, with two lids overlapping to create a unique look.
Pros:
The product's unique design adds value.
Excellent product protection.
Simple to use.
Cons:
Because of its large size, it cannot be folded, making it difficult to transport and store.
The price is relatively high.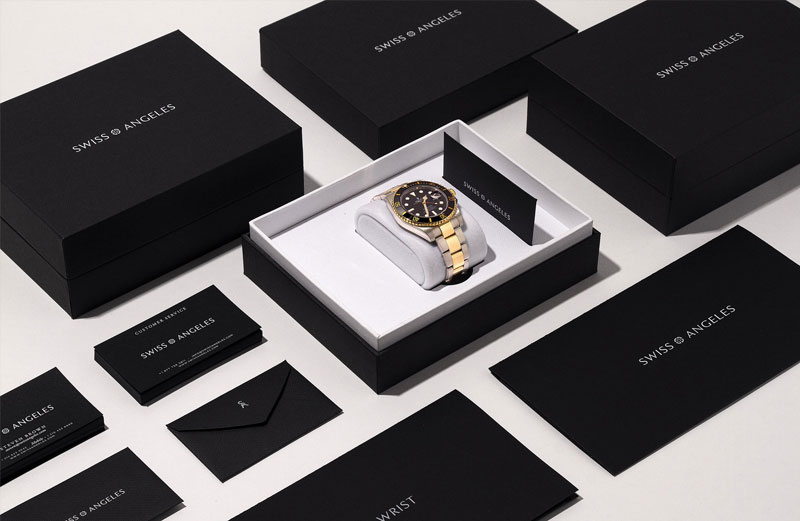 4. Sliding watch box
They are specially designed in a pull-open way, like a drawer. This specification stores the watch when half of the strap is folded. With this way of placing the box, there is no need for cotton and foam accessories inside.
Advantages:
Small weight saves product shipping costs.
Easy to use.
Relatively low cost.
Disadvantages:
This watch case style is more suitable for leather strap watches.
The product inside may be displaced during transportation.
>>> The meanings of premium gift boxes to enterprises

5. Folding watch box with two sides
The box design
is quite striking, with solid lids on both sides.
Pros:
The box style is novel, one-of-a-kind, and simple to use.
The ability to better highlight the brand.
Product protection has been enhanced.
Cons:
The box is quite heavy, which raises the cost of transportation and storage.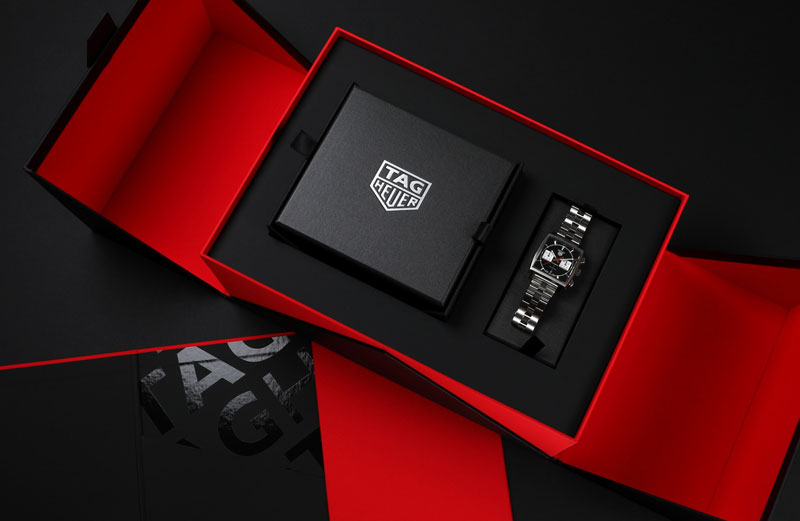 6. Folding watch rigid box
This watch box is quite common nowadays with the simple universal flip cover and minimalist design. Not only used to store watches but also used a lot for jewellery such as rings, necklaces, earrings… The box inside is unique, hugging the product. The product creates a professional and high-class interior for the items inside.
Pros:
Simple usage.
Good product protection.
It can be used in product display.
Fits even heavy watches.
Cons:
The weight of the box is quite large, and the shipping fee is expensive.
>>> How to choose a premium jewellery gift box?

7. Custom book-style box for watch
It's still a flip-flop style, but it's more modern thanks to the style created for the lid. Instead of being square, the top is cut to form a trapezoid. This is quite subtle, making the product the best display.
Advantages:
Excellent product display.
Keep the watch from being pushed or dropped during transportation.
Suitable for a wide range of watch weights.
Disadvantages:
The price of this model is relatively high, which is appropriate for high-quality products.
The product's weight may increase the shipping costs.

8. Custom top and bottom box
The lid and the removable base cover are suitable for
the watch box
. The novelty of this box model is the depth of the top.
Pros:
Good product protection
Simple, sophisticated, elegant design.
Cons:
The cost is high due to the large amount of paper.
Expensive shipping costs due to significant weight.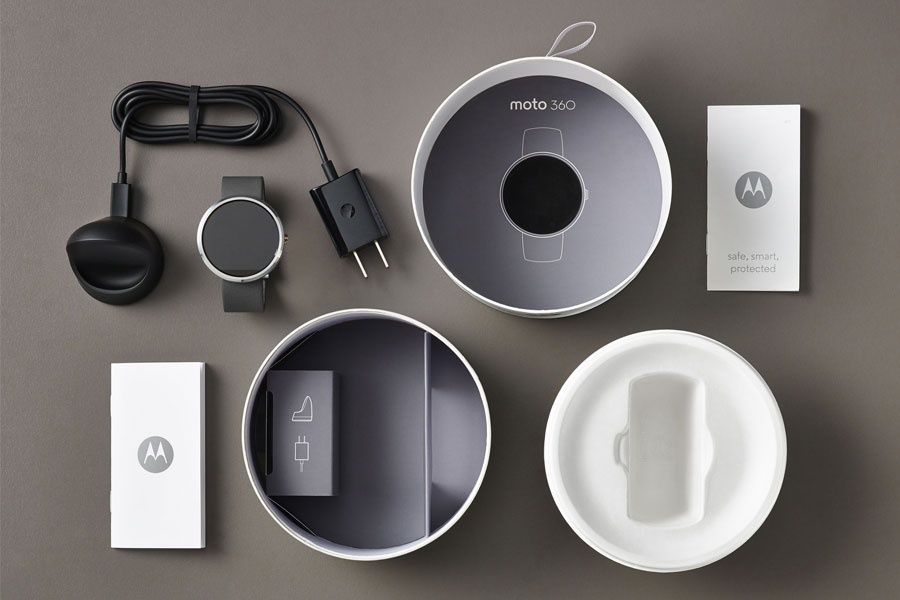 9. Pull-out watch box
The horizontal pull lid makes it simple to use. When the box is opened, the beautiful way to store the watch reveals all of the product's details.
Advantages:
Compact and simple design
Affordable cost
The small weight helps reduce shipping costs.
Suitable for low-weight watches.
The box can be easily pocketed and is convenient for users to store and preserve.
Disadvantages:
This box can preserve products but not as well as a rigid box.
>>> 17 Typical rigid box structures in Vietnam

10. Leather gift box for watch
Leather, in addition to paper, is a common material used to make
watch boxes
. Leather watch boxes are elegant, beautiful, and luxurious, but they also help increase the value of the product inside. That is one of the reasons why well-known watch brands such as TAG Heuer, Rolex, Cartier, Breguet, Piaget, Montblanc, Omega, and others...
Pros:
It provides excellent protection, increases product value, and is frequently used for high-end watches.
Cons:
The product's considerable weight and size increase its shipping costs.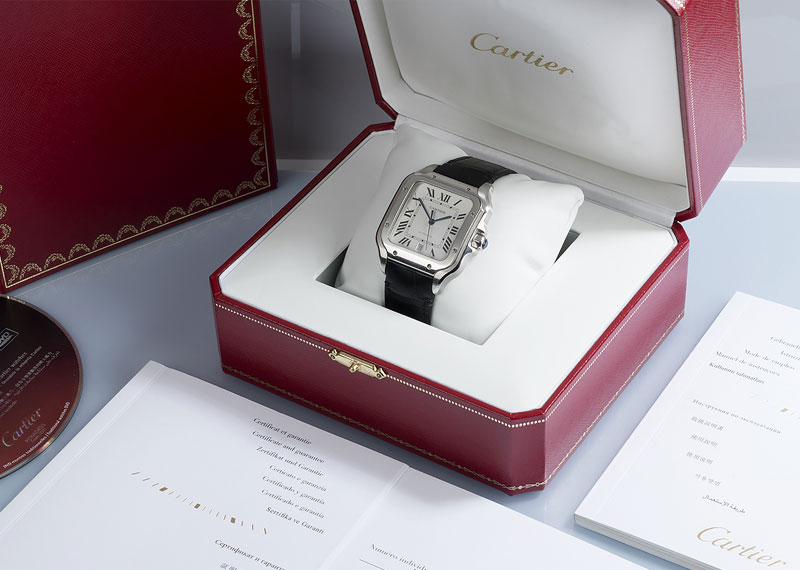 The box's price is relatively high due to the two layers of protective boxes. The ten most popular watch box models available today are listed above. You can contact us for advice on high-quality and appropriate rigid box solutions for watches, jewellery, cosmetics, etc.

KHANG THANH PACKAGING COMPANY
Hotline: +84 (0) 77 8878 222 ​
Email: info@khangthanh.com