Washable paper bags - Sustainable packaging trend
Washable paper bags - Sustainable packaging trend
We get a lot of questions about what washable paper is and why it's a good alternative to leather or other materials. We break it down for you in this blog with a list of reasons why
a washable paper bag
is so beneficial to both the consumer and the environment.

What is washable paper?
Washable paper - The sturdy material is similar to traditional vegan leather, but it is entirely plant-based. Unlike synthetic vegan leather, this paper is entirely natural, and long-lasting. Best of all, it will soften and age naturally.
This paper is used for tote bags, shopping bags, lunch bags, wallets, backpacks, purses, pouches and to name a few.
Because of its many appealing qualities, the washable paper has become a popular sustainable material among designers. It is not only lightweight, but it is also versatile and water resistant. Washable paper is also tear-resistant, allowing it to be reused as well as recycled, giving it a long lifespan.
Washable paper bags are environmentally friendly, so they are an ideal alternative to plastic and cloth bags

The advantages of washable paper bags
Fashionable
Washable paper bags look great, and the minimalistic style goes with any outfit. Washable paper is a leather substitute with an interesting backstory. The material is extremely durable, and you may recognize it from a well-known brand from the 1980s - LEVI's tags and back patches. It has a leather-like appearance without contributing to the leather industry.
>>> 7 Washable paper bag designs in getting noticed by the customer

Water-resistant
This washable paper is not afraid of water! Don't worry about it if it rains. The washable paper, unlike other materials, dries quickly. Washable paper is machine washable at 40 degrees, it is dimensionally stable and does not shrink or stretch.

Hard-wearing and durable
Because it is made of paper, the bag is lightweight and portable. Furthermore, these bags are durable, allowing you to carry more items. For instance, the average backpack weighs only 600 grams and is good for your back. The largest backpack can carry up to 8-10 kg, it is very tear-resistant and abrasion-resistant.

Moisture-wicking and chemical-free
The washable paper absorbs moisture and transports it away from your body, spreading it out so that it can evaporate easily on the fabric's surface. As a result, you remain cool and dry. Washable paper is made from natural plant fibers and is free of harmful substances during the manufacturing process.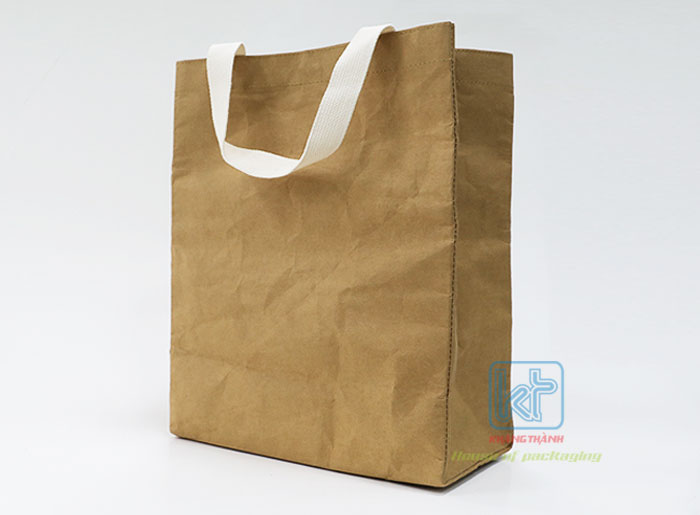 Washable tote bags - Great material that combines the best of paper and fabric but performs like leather

Strictly standard system
The material is certified by the Forestry Stewardship Council (FSC), an international standard that ensures the material is sourced from responsibly managed forests, as well as Oeko-Tex (Standard 100), which ensures no harmful substances are used on the material.
>>> 4 Manufacturing techniques for washable paper bags

Recyclable and biodegradable
It is made of high-density wood pulp cellulose, which is one of the most sustainable materials because it is derived from renewable resources and sourced from sustainable forestry. Washable paper is made from natural fibers and is biodegradable. All of our bags are cruelty-free. Washable paper products' cost is more affordable than leather.
Washable paper phone bag design - Simple and elegant

Washable paper bags could become popular in the future
In comparison to paper, leather, and plastic bags, washable paper bags have many great advantages, especially in terms of environmental factors. Here are reasons you should choose
a washable paper bag
:
Great material that combines the best of paper and fabric but performs like leather
Eco-friendly, made of 100% natural plant fiber
Can be reusable and biodegradable - Ideal for customers with vegan-consciousness
Simple and elegant
Can be supplied with your logo or symbol
Light-weight but very durable (abrasion-resistant and tear-proof)
Dimensionally stable, not shrink or stretch
Unique wrinkle texture after production and personal usage, every bag is different and special
Easy care (washable and air dry), wash in cold water using a mild detergent or soap, rinse thoroughly and dry flat.
Foldable so can be put in any place like a desk, table, counter, cabinet, racks
Trendy material to make all kinds of paper bags: backpacks, shopping bags, cooler bags, storage bags, cosmetic bags, toiletry bags, purses, pouches, travel bags, fashion bags...
Khang Thanh provides you with high-quality washable paper bags. We are willing to discuss your packaging concerns, please contact us at:
KHANG THANH MANUFACTURING JSC - ​HOUSE OF PACKAGING
Tel: (+84) 77 8878 222 ​
Email: info@khangthanh.com