Washable paper backpack - Eco friendly and fashionable product
Washable paper backpack - Eco friendly and fashionable product
These days,
a washable paper backpack
is a popular product. They are used for a variety of purposes, including work, school, travel, etc. Let's find out what makes this product unique in this article.



Washable paper backpack
Your daily commute has just become adorable! This paper and polycotton water-resistant backpack combines modern good looks with wipe-clean practicality, making it ideal for books, laptops, and other daily essentials.



Eco-friendly paper
This washable paper backpack is, in fact, made of paper! Environmentally friendly paper, as the name implies, is made from tree cellulose from responsibly managed forests and is bonded to create an improvement over the traditional paper.



Handy pockets & pouches
The multi-pocket backpack features a large front pocket and an inner laptop pouch, and it can be carried using either the comfortable natural cotton backpack straps or the shorter top handles.
>>> 8 Interesting questions about washable kraft paper


Strong, lightweight design
The bag body and pocket are secured with strong zipper closures; the bag body and pocket are enhanced to be durable, so this is a strong paper backpack you can load up with confidence.



Vegan & Sustainable
While our vegan paper backpack has the luxurious appearance of leather, it is cruelty-free and guilt-free! One ethical backpack at a time, out of the woods is working to eliminate fast fashion and single-use bags.
>>> 7 Washable paper bag designs in getting noticed by the customer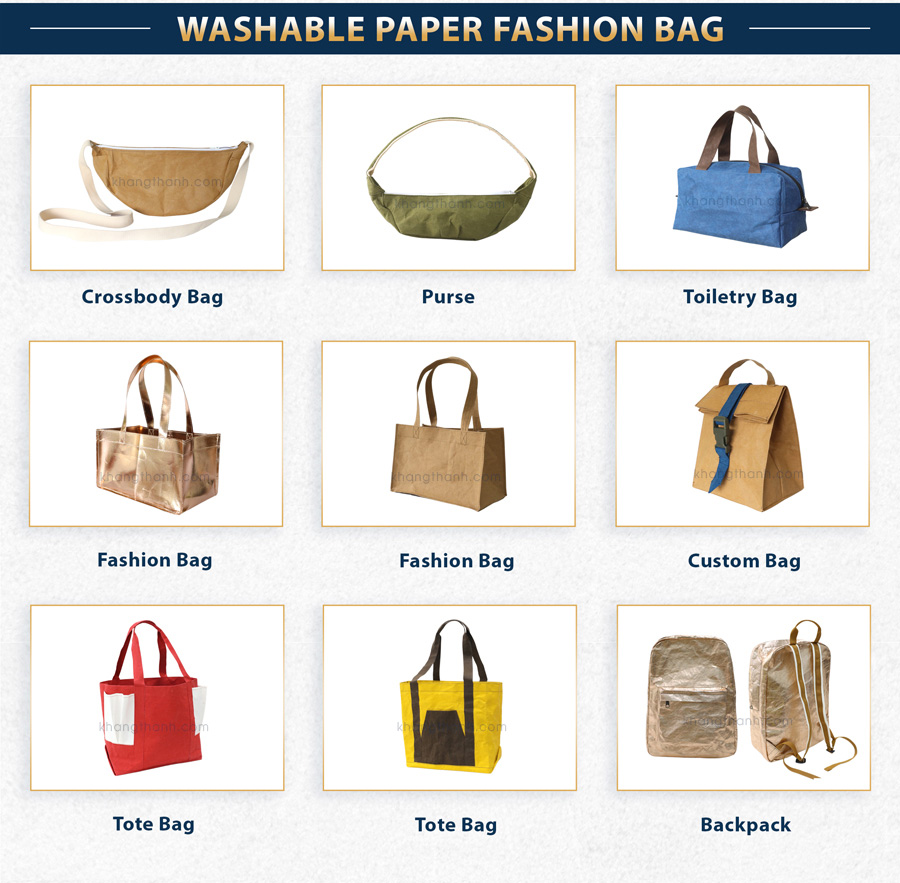 Washable paper backpack company in Vietnam
Khang Thanh has been manufacturing
washable paper bags
used in fashion, casual, shopping, gift packaging, etc. We are committed to producing each and every product to the highest quality standards.
The front zipped pocket is designed. A cotton sleeve on the inside. Pockets on the sides are 100% natural fiber - kraft paper that can be washed
Design, finishing, color, shape, dimension, and so on can all be customized.
Nature, brown, black, grey, and white are the colors used.
Sewing label, rope buckle, and magnet
Leather-like appearance and feel, tear-resistant, lightweight, wear-resistant, waterproof, machine washable and reusable, ironable, and environmentally friendly
Handle: Body material, canvas, cotton, leather
Certificates: FSC, BSCI, ISO 9001, ISO 14001, ICS, G7, Walt Disney ILS, L'Oreal Audit
Care: The bag can be hand-washed or wiped clean. Wash in warm water using a mild detergent or soap. Be sure to rinse thoroughly and reshape before drying. Do not wash the leather details
​
We'd love to learn more about your project. Feel free to reach us to support your brand with the right washable packaging:
KHANG THANH CO., LTD - ​HOUSE OF PACKAGING
Tel: (+84) 77 8878 222 ​
Email: info@khangthanh.com