5 Stunning benefits of using paper bags
5 Stunning benefits of using paper bags
Did you know that there are about 16 plastic bags wasted for every meter of coastline? A plastic bag spends approximately 100 years to decompose completely, so it is broken into tiny pieces floating in the ocean.
A paper bag
is biodegradable in about 2-4 months which contributes to decelerating climate change simultaneously. This article will clearly explain the several benefits of using paper bags.

Why does the paper bag play a crucial role in paper recycling?
According to a survey which is implemented by IPSOS, a global market research firm, for 7 European countries:
79% of respondents feel more comfortable when holding and touching paper products.
93% of people consent that the paper material is sustainable and should be preferred use for packaging.
86% of people agree that if they can choose to package made from paper or other materials, they will choose paper.
Moreover, most consumers are concerned about eco-friendly packaging:
70% of people support the prohibition on single-use bags and disposable bags in supermarkets.
80% of people concur that only material which is degradable under natural conditions is called biodegradable products ( meaning that they can decompose in the soil, freshwater, or marine environments).
Paper bags are made from wood which is a renewable and constantly growing resource. Because of the capability of decomposition in the wild from 2 to 5 months, paper bags will not have much negative effect on marine life.
Besides,
paper bags
are an essential element in the development of the brand image. This is because consumers will appreciate paper bags due to the many benefits that they bring.
Last year, the European Parliament passed a draft bill that prohibits single-use plastic items through the territory of the European Union (EU). If it is approved by the European Commission and continued to be adopted in each member state of the European Union, the bill banning single-use plastic products will be enacted in 2021 officially.
>>> 7 Surprising facts about paper bags that are actually true

Paper bags are made from natural sources
The raw material and the major source of the paper production process are wood. This natural resource is renewable and ever-growing.
More than one-third of Europe is covered by forests with an area of up to 215 million hectares. This provides tremendous potential natural resources to diminish climate change.
Forest coverage in Europe is rising by 1.4% per year thanks to the reforestation after exploitation. If one tree is felled, they will replant two new trees.
Sustainable forest management consists of the protection of water resources, the development of new species research, the protection of biodiversity as well as the improvement of the welfare of forestry staff.
When harvesting, all parts of the tree are entirely used in order to limit the waste. In detail, stems are generally used for sawn timber and pulpwood. The roots, branches, and tops of trees are used for bioenergy demand. Pruned parts and waste from the sawing process take advantage of making wood pulp.
Therefore, paper products, like paper bags, have components made from 100% natural, renewable, and biodegradable materials.
Paper bags certified by FSC (Forest Stewardship Council ) mean that their materials are derived from wood, which is sourced from strictly managed forests for exploitation accompanied by maintenance and reforestation. As a result, these
paper bags
are evaluated more environmentally friendly than others.
According to FSC-C137179, Khang Thanh is recognized as one of the packaging companies providing FSC-certified products.
>>> Environmental protection: Using FSC-certified packaging products

A significant amount of CO2 is stored in paper bags
Paper is made from wood, which is a natural and renewable material. While young trees grow, they will absorb carbon dioxide (CO2) from the atmosphere. Moreover, as a product from wood, the paper also continues to reserve carbon during its lifetime.
Every 1m3 of wood will absorb 1 ton of CO2 and emit 0.7 tons of O2.
Statistics indicate that the annual average quantity of carbon stored in European forests reaches 719 million tons of CO2 per year. This figure is equal to the annual amount of CO2 emission generated by Germany, including the energy, manufacturing and construction industries, transportation, households, agriculture, and waste. Otherwise, it is the equivalent of 209 coal-fired power factories.
CO2 continues to be reserved until the trees are cut down, and used to produce many products such as wood and paper bags.
1kg of paper will store approximately 1.3 kg of CO2 until they are recycled.
>>> 10 Different types of paper bags and handles

Paper bags mitigate the effect on the climate
All industrial activities have a significant impact on the environment. The Life Cycle Assessment (LCA) can be used as a measure of the environmental effect of manufacturing processes. One of those impacts is the Global Warming Potential (GWP).
The IVL Swedish Environmental Research Institute has implemented a study on greenhouse gas emissions from the production of paper bags and plastic bags. The conclusion has proved that paper bags, manufactured with pure or recycled fibers, have less impact on global warming potential (GWP) than Polyurethane bags made of LDPE, and thermoplastics made from regenerated or recycled Ethylene monomer.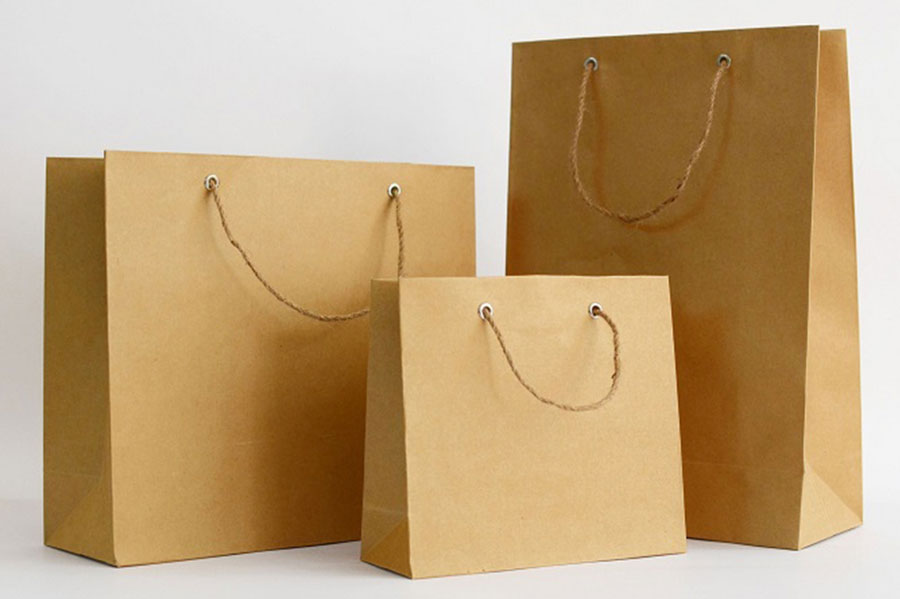 Paper bags are recyclable and biodegradable
Europe is a lead unit in the field of recycled paper all over the world:
The rate of paper recycling in Europe accounts for 71.5%.
There are 59 million tons of paper recycled each year.
Every second, it is estimated that 2 tons of paper are recycled.
In Europe, one paper bag is recycled and reused on average 3.5 times.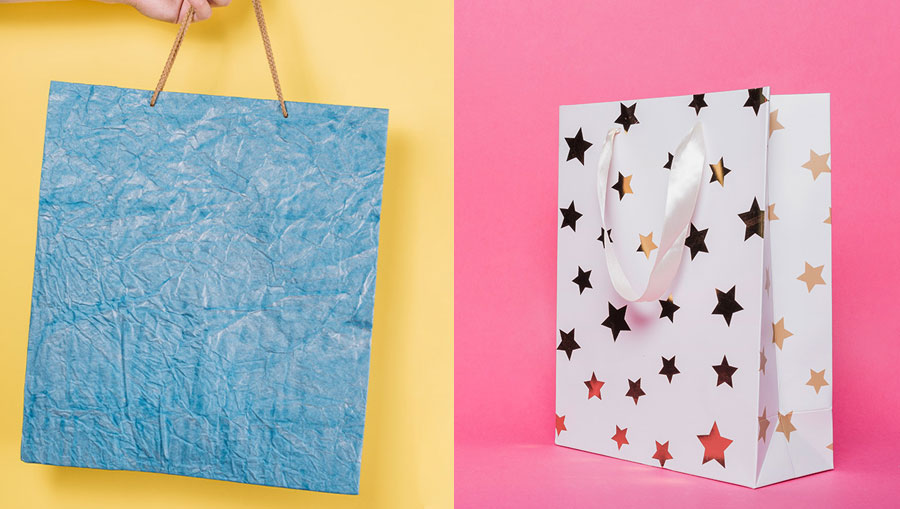 Many large paper recycling factories operate under Environmental Management Systems (EMS) with high environmental standards.
In cases of heavy products, natural kraft bags will be more outstanding because of their characteristic durability and high mechanical strength. A paper bag can be reused many times if it has good quality and a beautiful design.
On the other hand, paper recycling also has some difficulties such as:
Sturdy - because the toughness of cellulose will decrease with every recycling time.
Quality - some fixed products like high-end artwork can only be made with fresh cellulose fibers.
>>> 6 Basic steps in the paper bag printing process
Usable - some paper products cannot be recycled such as books, photos, or self-destruct paper products (toilet paper or cigarette paper) after use.
About 8 million tons of plastic waste is leaked into our ocean every year, tantamount to 16 plastic bags on one meter of coastline. Plastic waste doesn't decompose, so it crumbs into smaller pieces which will mix into the food source of marine creatures. While a plastic bag takes more than 400 years to biodegrade, a paper bag is biodegradable in 2 to 5 months. This significantly reduces its adverse impact on the environment.
Using paper bags is safer and more environmentally friendly than plastic bags. If you need domestic or export
paper bags
, but wondering about the standard, time, and quality… Please contact us to see more beautiful and unique paper bag models and advice on choosing the right design for your products.
KHANG THANH CO., LTD - ​HOUSE OF PACKAGING
Tel: (+84) 77 8878 222 ​
Email: info@khangthanh.com