8 Cost saving washable paper baskets for storage
8 Cost saving washable paper baskets for storage
Here's our favorite new storage method - a washable paper basket - ideal for transporting everything from cooking tools to children's toys, root vegetables to beauty products.

Washable paper basket with multiple functions
This
washable paper basket
is a white multi-functional bag made of strong recycled paper that is eco-friendly.
Ideal for clean, modern interiors.
An excellent method for keeping your belongings in order.
It can be used in the office, kitchen, living room, bathroom, or even the kids' room.
You can customize the text and decorations.

Handly and eye-catching - Washable laundry bag
This lovely paper basket is useful and adds a nice decorative touch to your home. It can hold a variety of items, such as a plant, a toy, or possibly kitchen accessories. Because of the attached handle,
the washable storage basket
is simple to hang.
Furthermore, because of the water-resistant paper fabric, this paper basket can be washed on a regular basis. Ideal for long-term and sustainable use.
>>> Washed paper bag wears like leather washes like fabric

Tear-resistant paper storage containers
Washable and tear-resistant
paper storage containers
are made of a strong material that can be used to store a variety of products.
The large size allows for plenty of storage, making it ideal for laundry, bathrooms, kitchens, living rooms, and plant displays. The star printing and natural material will add that extra stylish touch to your home.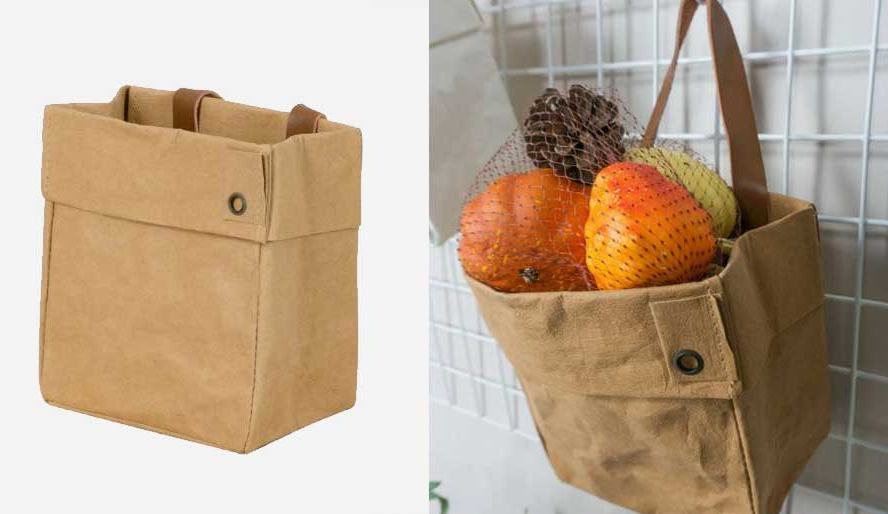 Stylish storage bag solution
This product is ideal for potting plants, small towels, and other bathroom and kitchen accessories.
Made of premium paper that has been stitched together to look like fine leather goods. A more environmentally friendly and sustainable alternative to leather goods and traditional paper or plastic bags.
>>> 8 Washable paper bag designs in getting noticed by the customer

Washed paper basket - Earth-friendly and vegan
Every family requires this storage basket to organize all of their small items. This basket is suitable for use in the kitchen, closet, office, or nursery. Toys, CDs, magazines, books, food, and fruit can all be stored inside.
On top of that, this washed paper basket is made of sturdy kraft-tex paper, is simple to fold and stand, is non-toxic, long-lasting, and safe for your family.
The storage basket is flexible and soft. It can not only be washed like a fabric but it can also be fully ironed and stored flat. This basket can be reused several times.

Reusable and cost-saving basket
This washable paper basket provides exceptional user experiences.
Foldable, portable, and easy to clean.
Hand wash, dry in a cool place, and do not expose to the sun.
As a plant pot cover, it can also be used to decorate your plants, dry flowers, and succulents.
This storage basket is frequently used not only at home, but also on business trips, picnics, and vacations.
>>> Washable paper or kraft-tex packaging products - The future of packaging



Easily customize washable baskets design
This is made of one-of-a-kind, sturdy paper that is machine and dishwashable, making it quick and easy to clean and reuse. Simply roll or fold the bag's sides down until you've reached the ideal height for your needs!
The washable paper bags are perfect for displaying fruit arrangements on the kitchen counter, presenting fresh produce at the farmer's market, or storing freshly baked bread on the bakery counter.

Care instructions
The paper is tough and durable, and with proper care, it will last for many years. It can be wiped clean or hand-washed gently. Because the paper has been treated with a special coating, only wash it when necessary to avoid wearing it.
Please keep in mind that the bag will arrive folded. Creases are easily folded out by wiping with a damp cloth and bending to shape. Our environmentally friendly washable paper is tough and water-resistant. This fantastic material rivals leather in texture and durability, providing an ethically produced and cost-effective alternative.
We'd love to learn more about your project. Feel free to reach us to support your brand with the right washable packaging:
KHANG THANH - ​HOUSE OF PACKAGING
Tel: (+84) 77 8878 222 ​
Email: info@khangthanh.com