Paper packaging for Tet holiday - An efficient investment
Paper packaging for Tet holiday - An efficient investment
Typically, fast-moving consumer brands (FMCG) will change their product packagings every 3-5 years, and big brands every 1-2 years. In the field of
paper packaging
, the competition is even more fierce during Tet season.
Tet packaging is not a marketing campaign but a business strategy
Market dominance of American and European brands in Asia is an important lesson for Asian brands. They realize that Tet is the peak of Asian buying, they transform their products not only to serve Eastern people, but also for Westerns to bring them home.
For Vietnam, the idea of ​​"New Year" is presented by Coca Cola through the golden swallows image, as wishes for the New Year of cohesion, prosperity and happiness. Each year, the Coca Cola swallows create different image: three words An, Tai, Loc (Peace, Fortune, Wealth) in 2015; a star, an apricot, and a heart corresponding to the hope, cohesion and love in 2016.
Pepsi, a direct rival of Coca Cola, is no less competitive when it introduces the image of Te Thien Dai Thanh (Monkey King) and traditional Chinese motifs on the New Year's Eve packaging. Along with the viral video re-enacting the story of the actor playing Sun Wu Kong in the movie "Journey to the West", this packaging will definitely in consumers' mind in a long time. It touches national pride and evokes the memories of nearly 1.5 billion people of this country on the occasion of reunion.
Major FMCG brands in Vietnam are not out of the game. Kinh Do brings peach blossom, apricot blossom, and banh chung to its bakery
product packaging
. Nestle selects Phuc, Loc, Tho to design packaging for all its products in the Vietnamese market, accompanied by communication, promotion and interaction campaigns on the occasion of Tet 2016.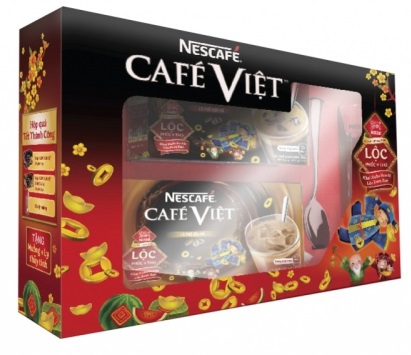 Tet packaging helps cross-selling more effective
In addition to changing the packaging of each product, big FMCG brands such as Vinacafe, Kinh Do, Hong Lam oysters, etc. tend to offer a gift solution that is a large gift box containing many products of brands.
It is not unintentional but intentionally that brands try to increase sales through cross-selling or selling with slower sales. Instead of buying a product as its original purpose, consumers will bring home more things and have the opportunity to try new products. This also hits the psychology of consumers who need a beautiful, luxurious and convenient form with many price options to display or give as gifts.
Tet packaging is not only for FMCG brands
The trend of Tet gift bags not only thrives in the FMCG industry, it also is quickly received by other businesses. Tet holiday is always an opportunity to tribute customers, partners who has been supporting and helping our business during the past year. A simple gift bag at the supermarket or order with random packaging, you can not say anything about your brand, and it does not impress the receiver.
For Easterners, it is not only about the gift, but also about the way of giving. Being aware of that, in recent years, many businesses have ordered Tet gifts and gift wrapping to make them different from their competitors, and to increase brand awareness and most importantly to create sympathy and impression of the recipient.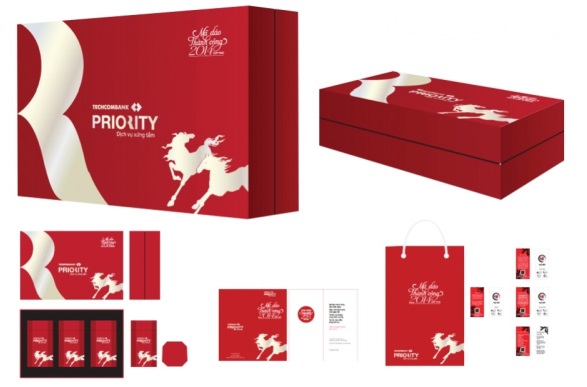 Packaging strategies in general and the peak season of Tet in particular have become increasingly important in the fierce battle - not only at the point of sale, in the FMCG market but also of big brands. A packaging design should tell a story inside a gift box or packaging; that could be the story of the product, the brand, and the messages sent to consumers.
A product packaging
or business gift should bring joy, excitement and affection to consumers.

Source: Brandsvietnam.com
Khang Thanh - The packaging manufacturer in Vietnam specializes in producing paper bags, carton box, carton offset, labels, hangtag, books, calendar, POSM and so on. Contact us to support your brand with the right packaging:


KHANG THANH CO., LTD - ​HOUSE OF PACKAGING
Tel: (+84) 77 8878 222 ​
Email: info@khangthanh.com