Top 20 Innovative hanger models for apparel industry
Top 20 Innovative hanger models for apparel industry
Paper products are no stranger to us recently. They play a significant role not only in protecting the environment but also in bringing joy to the users. Paper bag, paper bowl, or paper cup ... But, have you heard of paper hanger? Let us explore 20 unique paper hanger models with
Khang Thanh
.
Paper hanger - No.01
At first glance, this type of hanger looks quite similar to
the clothes hanger
we use every day. The only special thing is that they are made from recycled paper. Two small notches on the hanger will help your clothes fix when hanging on the shelf, especially for tank tops or tank dresses.
Clothes hanger - No. 2
This is
the paper hanger
that appeared in KappAhl's collection. It is made of paper combined with a metal hook, capable of withstanding heavy loads. They can be used to hang coats in large sizes.

Paper hanger - No. 3
The third type of
cardboard hanger
that Khang Thanh wants to introduce belongs to the Ditto collection, made of cardboard paper, kraft paper, or art paper.
The surface is glossy coated, matte coated or UV coated, creating better waterproof ability
.
This design is emphasized with embossed or stamped details and varied in size, suitable for many different types of clothing.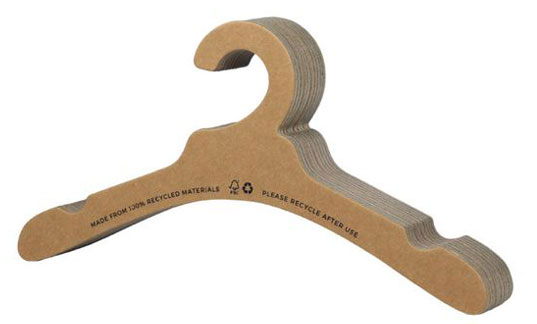 Paper hanger - No. 4
The design is similar to model No.1 but has a few differences in style. The two shoulder notches, instead of semicircles, are designed narrower to ensure stability, especially for clothes with lightweight materials such as chiffon, silk ...
Besides, the space in the middle of
the hanger
can be used to hang both thin towels or belts.

Clothes hanger - No. 5
This hanger is quite small in size and suitable for hanging children's clothes. This is made from natural kraft paper with its inherent brown color that creates a feeling of lightness and environmental-friendliness.
Just like the paper hangers No. 1 and No. 3, this type is designed with 2 shoulder notches, helping to keep the clothes neat.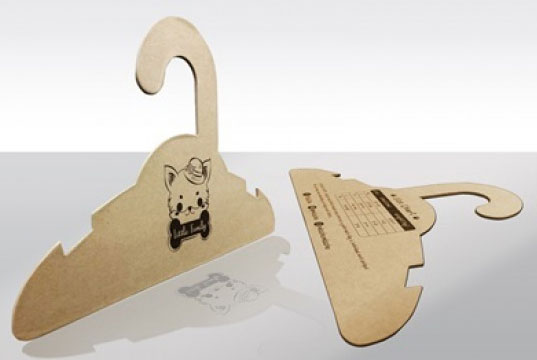 Paper hanger - No. 6
This is also made from recycled kraft paper, suitable for hanging scarves, ties, trousers… It's simple to use, you just need to pass the cloth through the empty space in the middle of
the hanger
and hang them in the closet.

Cardboard hanger - No. 07
This multi-story
hanger
is made from recycled paper, designed for hanging many ties at the same time, very neat and convenient.

Paper hanger - No. 8
Cardboard hanger
- Model No.8 is made of FSC paper - paper from strictly controlled forest sources. It was designed in a flat shape that will save space when hanging
,
which is very eye-catching and extremely firm, no less than a plastic or wooden hanger. The hanger combined with the high-quality metal clip is suitable for hanging jeans and skirts.

Cardboard hanger - No.09
A product from the Sinicline fashion brand possessing natural colors from recycled paper. It's suitable for hanging T-shirts or coats in many different sizes from small to large for you to choose from.

Paper hanger - No. 10
This hanger is used in a wardrobe but to hang sandals. It was designed to keep the sandal straps fixed on the hanger. Because of being made from cardboard this model has a high loading capacity.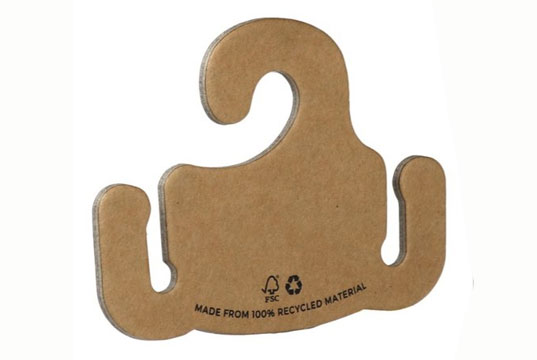 Paper hanger - No. 11
Another type of hanger that is put in the wardrobe but used to hang belts, ties, socks, or towels. The two hollow rectangles in the middle allow you to hang 2 items at the same time. The attractive design with a snake-shaped hook brings a feeling of delight to the user.

Paper hanger - No. 12
The hanger has a square shape. The empty cells are finely cut so that they can keep a towel, socks, or ties neatly simultaneously. A specially designed hook was kept in place on the rack.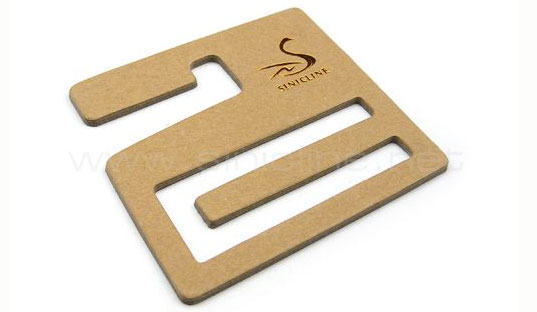 Clothes hanger - No. 13
With a thickness of 3.5mm and a special design, model No. 13 of
paper hanger
is suitable for hanging socks. Its small size of 11cm will save space on the rack.

Paper hanger - No. 14
This model cannot be used for coats, because its small and circular hanger shoulders cannot hold clothes like a normal hanger.
It is suitable for hanging towels or pieces of cloth. The large dimension of the empty frame in the center and the thickness of the hanger can hang thick towels or a few pieces of cloth. The unique point is that instead of using an actual hook, they create a very eye-catching hook made of paper.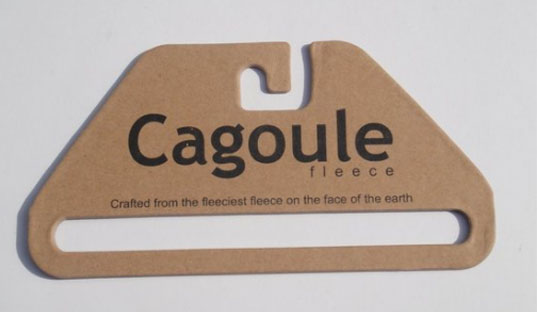 Paper hanger - No. 15
This hanger can be used in two different ways: you can either put the hook on the rack and hang towels and socks on the frame; or rotate it by 180 degrees, it is now used as a tool to hang hats and coats.

Clothes hanger - Hanger 16
This model looks no different than a regular hanger. Its special feature is that it is a combination of hard paper and 2 iron clips. With this design, it can be used be it hanging pants, children's clothes, or accessories. 2 detachable iron clips can flexibly change its width, which is very convenient to use.

Clothes hanger - Clothes hanger 17
This is an eye-catching hard paper hanger model. Its shoulders have many intricate cutting details. Their purpose is to keep clothing neatly on the hanger. It can be used for many different types of clothing and skirts. Its exquisite design goes in hand with a compact size that will save your wardrobe space.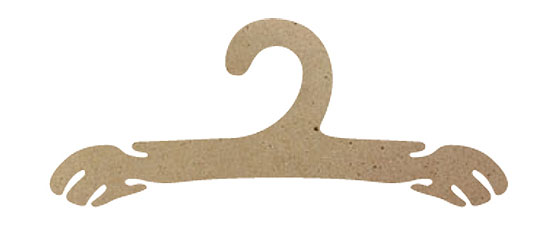 Paper hanger - No. 18
Have you seen a hanger for the sandals? This recycled paper hanger is found in Ditto's paper hanger collection. It has a compact size 54 x 177mm designed with 2 simple hooks that you can easily hang the sandals on.

Paper hanger - No. 19
This hanger may remind you of model No. 15. The difference is that they have two hollow rectangular frames in the middle. As a result, it's capable of hanging more towels, ties, belts, or socks. This hanger can't be used on the two ends like model No.15. Instead, they're used to put in the labels of socks or tights.

Clothes hanger - No. 20
A design used at Adidas SLVR stores. With wide shoulders and elaborate cutting, this paper hanger model is suitable for sophisticatedly designed clothes. Its small details that are difficult to observe can provide the best performance effect for the clothes.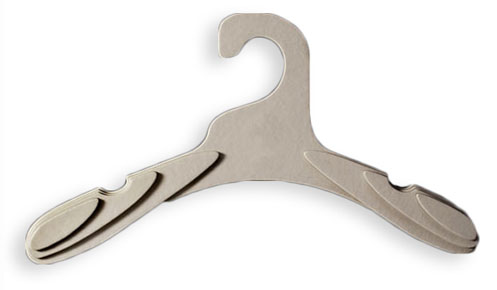 Above are 20 models of
paper clothes hanger
for your reference. They are suitable for display areas at shops, supermarkets or fashion shows, exhibitions ... In addition to having a great impact on protecting the environment, paper hanger also make a good impression on your customers.
Contact us to order clothes paper hangers made of FSC or recycled paper:
KHANG THANH PACKAGING COMPANY - HOUSE OF PACKAGING
Tel: 077 8878 222
Email: info@khangthanh.com